Top Restaurants In Toledo

13 May 2011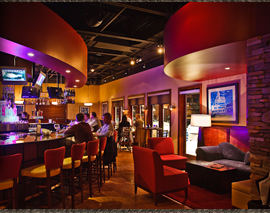 As the fourth largest city in Ohio housing a major populace, Toledo spells diversity, which seeps into the food as well, and the top restaurants in Toledo will help to give way to a pleasant and rich culinary experience.
Toledo's top restaurants
 • Georgio's Café international: Enjoy the fusion cuisine the menu has on offer from this top restaurant in Toledo.  You can revel in a wide range of delicacies such as escargot, octopus, stuffed grape leaves, lobster bisque, veal piccata and vegetable pasta in a soft and quiet ambience, and settle down for the "dinner and a show" time, as the restaurant is located in the vicinity of a popular theater.
• Poco Piatti : Here stands the culinary confluence of Europe's popular and, the middle east representing some major cuisines in this top restaurant in Toledo. The flavors from Greece, Spain, Italy and the Middle east waft through from the restaurant's kitchen to entice any visitor. Stuffed grape leaves, mujadara, patates riganates, saganaki kasseri, Italian sausage, garlic and chile sautéed shrimp, paella are some of the "show-stealing" dishes Poco Piatti is famous for. The restaurant is located at 5333 Monroe St Toledo, OH 43623
• 31 hundred : If you take cooking as a form of art then you have all the room to appreciate the culinary aesthetics at 31 hundred, whose ambience truthfully reflects the restaurant's New American cuisine. There is something for a small snack- sandwiches , burgers, pastas etc. and, many more for the largesse- the rack of lamb, pork chops and steak, as well . Here is one of the top restaurants in Toledo, offering topping menu fare with a welcoming bar on the side to give the topping effect. The restaurant is located at 3100 Glendale Ave, Hilton Toledo, OH 43614.
• HJ's Prime Cut: A top restaurant in Toledo and a must visit if you are the beef-lover and love to cut it big with the beef, with family or with a date. There are various options to choose from – the Prime rub being the eye-catcher and can be had in surf and turf combo with a shrimp or a lobster. Of course there is also the lighter side lit- up with many chicken breast dishes, pastas and salads. HJ's Prime cut is located at 505 E Alexis, Toledo, OH 43612.
• Tony Packo's : With all the star-studded signatures on Tony Packo's walls and dishes patronized by the famous Jamie Farr of M.A.S.H, this top restaurant in Toledo located in the Hungarian neighborhood of  Birmingham is popular for its Hungarian food attracting tourists and visitors alike. The hot favorite of dishes being Hot dog with chili, diced onions and mustard complimented by dumplings, gravy and hot German potato salad. Tony packo's is surely reminiscent of the "star-lit",  which sparkles with a cozy interior and a bar to side with it.
When Ohio beckons and you decide to nestle along the lake view of Toledo do not forget to visit the top restaurants in Toledo, which is sure to send the wanderlust hungrier!
Photo Courtesy: onethousandsplaces.typepad.com/
Top Restaurants In Toledo