Top Restaurants in Hanoi

10 May 2011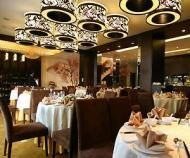 There are a lot of restaurants in Hanoi that serve both Vietnamese and western cuisines. It is quite hard to find good restaurants in a city if you are new to that city. However these top restaurants in Hanoi listing would be helpful to find the best dining spot.
La Badiane
Lovely décor, calm atmosphere and excellent food make this place one among the top restaurants in Hanoi. The intimate dining rooms are ideal for couples. Many prefer this place to have lunch and dinner. Crab risotto, shrimp bisque, and other French delicacies in the menu would make your mouth to water.
Hanoi cooking center
The nice place in the city where you have the option to laze around the Café and book shop attached to this place. Want to get over lazy weekends, come here to enjoy the food and drink. Surely you will have awesome and great experience here.
Old Hanoi restaurant
The nice setting, old artifacts and the waiters dressed in traditional silks would welcome you for a wonderful dining experience. This is one of the top restaurants in Hanoi that provide quality food at affordable prices. Old Hanoi restaurant would never disappoint you.
Green Mango
Green Mango delights guests with variety of cuisines like Fusion, Vietnamese and International. You have both indoor and outdoor dining settings which are extraordinary. Whether it is an international dish or a local one you can find it being tasty and authentic.
Newday
This is one of the top restaurants in Hanoi to try local foods. The different soups, fried fish, tasty noodle dishes, pork and fish mixture and the fresh juices are highlights of the menu. Local people as well as the travelers enjoy the cuisine served in this restaurant.
So now you have the top restaurants in Hanoi listings. Hope these recommendations would help you to dine like a local than a visitor to the city.
Image credits: mekong-travel.net
Top Restaurants In Hanoi