Top Restaurants In Marrakech
4 May 2011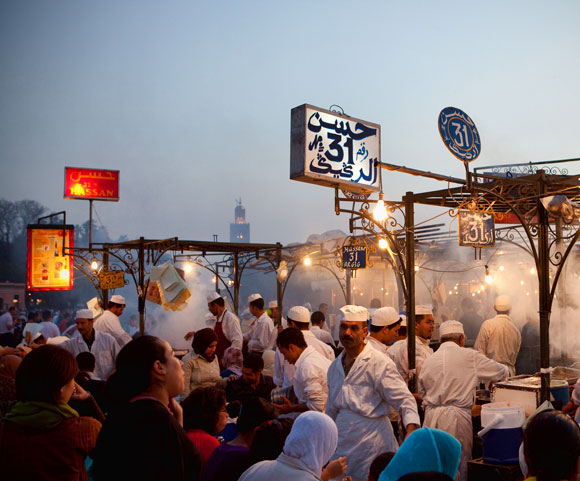 Dining out in one of the top restaurants in Marrakech is one of the best ways to spend your leisure travel. here. This is going to be an unforgivable a memorable experience giving you one more good reason for the urge to revisit the city of Marrakech. Your culinary experience in Marrakech is well covered by all budgets and appetites.
As the twilight appears the main square in Marrakech turns into a fabulous place for food. These stalls are known as the Djeema el Fna. All you need to do here is to follow the nose to take you to the right stall and have a quick stroll through the various stalls before you choose yours. This is necessary that you visit this place in Marrakech at the least once before you leave the city. You will be served with some of the tongue sizzling dishes from restaurants that carry the name of the infamous Gordon Ramsay or Jamie Oliver.
Dar Yaccout:
If you are looking for some of the traditional Moroccan restaurant then Dar Yacout is the place to dine, which is more famous for their incredible interiors of the Arabic design and the amazing ceilings. While you keep admiring the ceilings with your necks up, you will find your plates being filled with your orders, so that you can enjoy the feast to your eyes and your tummy concurrently. They serve a tempting seven course meal.
Les Jardins de Bala:
If you want Indian then this the place to  go and enjoy the feast to your eyes and mouth form their roof top of a five star hotel, Les Jardins de la Koutoubia. Some of the infamous and mouth watering Indian dishes will include bhajjis and banana lassis to saags and samosas. You will get to relish some stunning awesome views of Marakech.
Image credits: tigmi.com
Top Restaurants In Marrakech