Top Restaurants In Islamabad

3 May 2011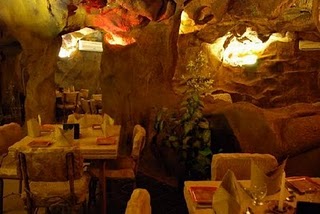 Top restaurants in Islamabad are worth visiting for their excellent food and warm reception. The capital city of Pakistan is home to many good restaurants that make it difficult to find out the best among them. So, let's have a look on some of the restaurants in Islamabad which are good in food, service as well as ambience.
Some Of The Top Restaurants In Islamabad
Cave Diner
Cave 1-B Awan Arcade
Jinnah Avenue, Islamabad
It's an awesome restaurant with great ambience reflecting unique architecture. If we talk about food, one is going to miss something very important if he doesn't visit this restaurant while in Islamabad. The foods served here are impeccable and some of the highly recommended ones are Chicken Spinach Milano, Chili Chili Bang Bang and some of the unique sauces.
Olive Garden
Street No.4, Near Gol Market,
F-7/3, Islamabad
Think of anything viz. Barbecue, Grill, Continental, Dessert, Halal, Pizza or Pasta, you would find them in Olive. The restaurant is a perfect place to celebrate with friends and family and even for doing business meetings. So enjoy your meal here with a soothing background music played in the restaurant.
Kabul Restaurant
College Road
Jinnah Market, Islamabad
If you are planning to relish some of the local cuisines, Kabul Restaurant would meet your requirements. It is considered one of the top restaurants in Islamabad offering the best Pakistani cuisines. Meat balls and kebabs served here are really delectable.
Cinnamon
F-6, Blue Area, Islamabad
Cinnamon is undoubtedly one of the best restaurants in the city in terms of great food and ambience. Not to forget their warm and friendly reception that would make you visit the restaurant again and again. From soups to main course, everything they serve is excellent in taste.
Khiva
Khayban-i-Iqbal (Margalla Avenue),
House 64, F 6/3, Islamabad
If you want to relish the authentic Central Asian cuisine, plan a visit to Khiva. It is also well known for its outdoor seating amidst garden setting and gas heater atop table. It offers excellent service where waiters who are in their traditional attire make you feel very comfortable.   
The abovementioned list of top restaurants in Islamabad is still incomplete but it must have given you a fair idea about the eating outlets in the city which are quite exceptional.
Image Credit: all-islamabad.blogspot.com
Top Restaurants In Islamabad