Top Restaurants In Oxford

2 May 2011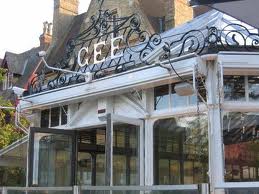 If you are planning a trip to Oxford, do try out the list of top restaurants in Oxford compiled here. This list of Oxford restaurants include out-of-the-way spots, upscale dining rooms and even contemporary eateries. Sample the local cuisine as well as international savors in the many locally owned restaurants in Oxford catering to tourists, teaching as well as the student community that flourish here. 
Oxford Restaurants to Visit
Le Manoir aux Quat' Saisons , Church Road, Great Milton
Cuisine – European, French
Elegant, modern French food beckons you to a night of unlimited culinary experiences. Enjoy delectable food including slow roasted Cornish turbot, Gressingham duck breast with braised chicory etc. The ambiance is formal and dress code of jacket and tie is mandatory. Making reservation is necessary.
The Nosebag , 608 St. Michael's St
Cuisine – British, European
This is a café restaurant in Oxford, offering respite for shoppers as well as people on business. Ever changing homemade menu items is the specialty of this place. Hence, gear up to be served Lombard mint casserole, Moroccan chicken split peas, homemade pies, cakes, pastries etc. Enjoy an intimate meal here.
Brown's Restaurant , 5-11 Woodstock Road
Cuisine – European, British
A popular place filled with students, tourists and locals. The restaurant has an open atmosphere and serves typical British menu. Enjoy handmade sausages, mashed potatoes, shallot gravy, salmon cakes, lemon mayonnaise etc. The place is usually crowded and hence reservations would be necessary.
Luna Caprese , 4 North Parade
Cuisine – Italian, European
Walk into Italy in Oxford, when you enter Luna Caprese. The dimly lit restaurant with a la carte menu is truly awesome. Tuck into delicious freshly made pasta and various other dishes daily. Do not miss the specialty dessert, cassata Luna Caprese. Make reservations while planning to dine here during weekends.
BangkokHouse , 42 a Hythe Bridge St
Cuisine – Asian, Thai
Popular as one of the best Thai restaurants in Oxford, this place extends a truly Thai experience from the décor to the food. The staff serves food in Thai attire adding to the charm. Order scallop pad-ka-prow while dining here. Ensure that you choose mild food since some of the dishes are very hot. Vegetarians too can enjoy the vegetarian menu fare.
Café Rouge , 11 Little Clarendon St
Cuisine – French, European
A cozy atmosphere and delicious food keeps bringing the crowd back again and again. Sip coffee, have dinner and enjoy company at this reasonably priced street side café. Try the roasted duck with caramelized red cabbage, pasta, mushroom and salmon with cream sauce while here while you enjoy crisp English afternoons. 
Capture the essence of Oxford and its local cuisine at the top restaurants in Oxford while on a visit here.
Image credit:  tripadvisor.com/
Top Restaurants In Oxford