Top Restaurants In Chattanooga
2 May 2011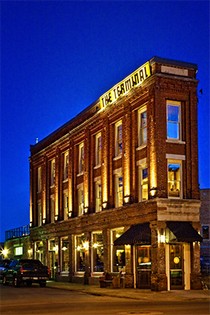 Ifood brings to you the top restaurants in Chattanoog, the fourth largest city in the state of Tennesse, United States. This is a place ideal for people who love outdoor activities. Foodies who love world class dinign will also fall in love with this place - the reason being the countless cuisine options it offers to choose from. Some of the top restaurants in Chattanooga offer dining facilities with opportunity to enjoy your dinner in the scenic beauty of the city.  
The Guide To Good Restaurants In Chattanooga
Terminal BrewHouse
This is an American based restaurant serving your some of the delicacies of American cuisine, however has become infamous for the beer that wither they serve or that which they can help themselves. In this restaurant, you will find American cuisines, burgers and pub food with lots of beer to enjoy.
Champy's Damous Fried Chicken
This is another American restaurant located in the Martin Luther King Building of Chattanooga has been known for the wide range of chicken dishes they serve, of which the fried chickens are a delicacy that you will not forget the taste until the next trip.
Taco Roc
If you are looking for a top Mexican dining place, then Taco Roc is the place to visit. Here you will find modest Mexican dishes and delicacies that which you will find for $10 per entrée and how you could miss ordering the taco and complete the dinner by time.
St John's Restaurant
This American restaurant, has been famous for being the best restaurant in the city, and is one of the favorite spots for the natives and locals. This being the case, there is one good reason why should not miss visiting this dining place.
Tony's Pasta Shop and Trattoria
This Italian based restaurant will make you feel happy that you have spent your money well and is one of the best spots that will not be missed on your list for a second visit. You will not forget the traditional pasta and trattoria served with perfectionism.
However, this is not the end of the list, in Chattanooga there is no dearth for an exotic dining place. But do visist these top restuarants in Chattanooga.
Image Credits: chattanoogan.com 
Top Restaurants In Chattanooga