Top Mexican restaurants in London

25 Apr 2011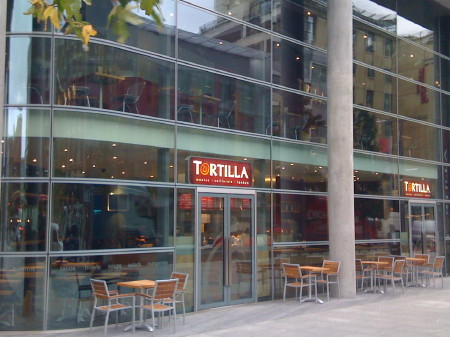 Top Mexican restaurants in London are busy setting milestones in world food industry by offering some of the yummiest tacos and burritos from the Mexican kitchen to world's platter. A bite of the scrumptious and sumptuous tacos and burritos combined with a sip or a gulp of flavored margarita, may, for a moment, takes you to a cafe in lanes of Mexico. Enjoy flavors of Latin America, in one of most romantic weathers in London. Check out these top Mexican restaurants in London.
Tortilla
13, Islington High Street
Tortilla started with an intention of bringing authentic Mexican delicacies from humble Mexican kitchen at humble prices. Because, the owners feel, if the prices are too high, the authenticity and the pleasure of eating that dish might suffer. Be it a formal meet or friend's outing – Tortilla—is a good idea anyways, with its value for money deals and flavors of the new world, right in front of you in a jiffy. The Mexican grill has it all – the Mexican flavor, feel and fresh ingredient to give you a perfect Mexican experience. Apart from serving some authentic Mexican like -- handmade guac and tacos, and some influenced food items like cilantro rice, which is Californian touch on burritology.
Wahaca
1074, Westfield Shopping Centre, White City
The restaurant Wahaca, which is one of the top Mexican restaurants in London, strongly believes that like life, there cannot be planning for good food too. Along with an ultra casual dining experience, it offers some utterly tasty Mexican gourmet as and when you order and it is made. Think no courses or formalities, as you need to actually lick your fingers to enjoy these finger-licking tacos and burritos. So no booking job at Wahaca, just drop it to have some authentic Mexican fare anytime. Their summer menu is ready with a number of Mexican-inspired delicacies, which are as local as possible when it comes to flavor. Huarache, queso fundido and MSC ceviches are must-try from the summer menu.
Chilango
Upper Street / Fleet Street
It's their love for Mexican food and the quest of the same that made the owners of Chilango open the restaurant that serves authentic Mexican taste in the heart of London. And their secret lays in the experiments which they have been doing with various local ingredients and fresh farm produce. Salsa, guacamole, veg and non-veg burritos, tacos, salads with your choice of meat, vegetables, creams and sauce can be experience for a life-time, as the customers put it.
Benito's Hat
19 New Row, Covent Garden  
At Benito's Hat, they have flavors from Mexican beach with a hint of English taste for that local shade. You may feel Baja aroma in London and have some authentic Mexican food in your own flavor. That's what makes it unique and makes it stand among the top Mexican restaurants in London. Apart from the taste, what is taken care of is the health aspect of the food, making it less greasy and yet tasty. So enjoy your favorite flavor of burritos, tacos, salads or soup with your favorite filling – veg, steak, pork or chicken – in a price range of £5.50 to £6.40.
Color the grey moods in London with vibrant Mexican food and Margaritas and enjoy the most varieties of authentic Mexican food served at the top Mexican restaurants in London.
Photo credit: mymetropole.files.wordpress.com
Top Mexican Restaurants In London