Top Restaurants In Amman

19 Apr 2011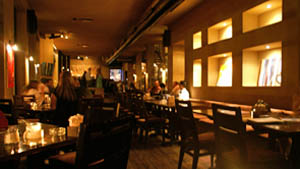 The Top restaurants in Amman are as fascinating as the city itself. You would find many good restaurants in Amman serving almost all the international cuisines. So, let's sort out some of the best restaurants in Amman that offers excellent dining experience.
Cantaloupe Gastro Pub
It is an amazing place to visit in Amman as the restaurant has excellent menu, great food, nice presentation and excellent service. In addition, the restaurant has elegant and modern feel which makes it more appealing.   
Blue Fig
Exceptional ambience and an apt restaurant showcasing the fusion of food, culture and music are some of the reasons for which Blue Fig is considered one of the top restaurants in Amman. You can enjoy all the three meals viz. breakfast, lunch and dinner along with a cup of cappuccino at this wonderful eating place.
Wild Jordan Café
Visit this restaurant to enjoy great food as well as excellent view because the restaurant is set amidst hill sides of Amman. It is considered one of the good restaurants in Amman for serving great international dishes which are fused with Jordanian herbs.
Fakhr El-Din Restaurant
It has been often termed as luxurious restaurant as you might find it bit overpriced. But the foods served here are excellent. Don't miss to try Shokaf Mashwi and Shish Tawouk at Fakhr El-Din.
Reem
Reem is one of the top restaurants in Amman which has expertise in serving Shawarma. It is perfectly prepared, presented and economically priced. What else do you need to enjoy the best Shawarma at Amman?
These were some of the top restaurants in Amman which comfortably meet everybody's appetite. So, don't miss these eating outlets while your visit in this capital city of Jordan.
Image Credit: veggiefriendly.com.au 
Top Restaurants In Amman