Top Restaurants In Bangkok

19 Apr 2011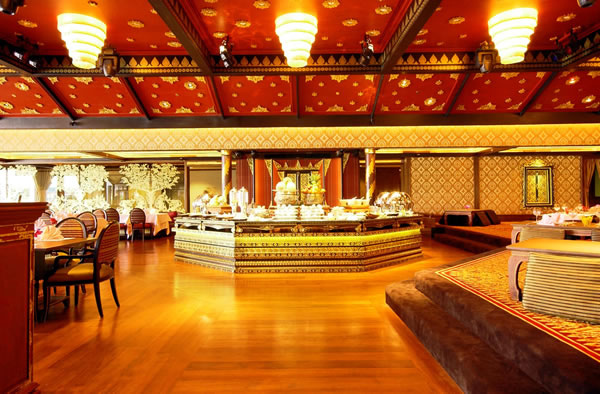 Top restaurants in Bangkok provide you endless eating options. In this capital city of Thailand selecting a restaurant becomes a tough job, as all the restaurants are good in some or the other ways. You won't get disappointed while visiting any of them. But if you are tourist, you should have a fair idea of good restaurants in Bangkok, so read further to know about some of the best Bangkok's restaurant.
Sala Rim Naam
You would be served the best Thai food at Sala Rim Naam. Many of the dishes were earlier reserved for royalty but now is open for all, so you can imagine the taste of such dishes. It is a part of The Oriental Hotel and the night hours are the best time to visit this restaurant as you would get a chance to enjoy traditional Thai dance. The dance is staged in dining room in between 8pm to 9:30pm. Another interesting thing about this restaurant is that you have to cross the Chao Phraya River via boat to reach this restaurant. The boat service is also run by the restaurant. 
Bamboo Chic
You can treat yourself with classic Chinese, Thai and Japanese cuisines at Bamboo Chic, which is considered one of the top restaurants in Bangkok. The ambience is great with high ceilings and low light along with soothing music that makes the atmosphere more serene. You can place the order for Tom som pra hima, Steamed Snow Fish, Rhubarb Soup with Berries and enjoy a great meal.
Shangrila
Shangrila has earned a reputation of one of the top restaurants in Bangkok when it comes to enjoy authentic Chinese foods. Best food, best service and comfortable setting of the restaurant makes it very popular among those who are an avid fan of Chinese food. If you get a chance to visit Shangrila, don't miss its Peking duck and Pork dishes, they are amazing in taste.
Tables Restaurant @ Grand Hyatt Erawan
If you are not in a mood to try Thai food and want your own favorite European cuisine, Tables Restaurant @ Grand Hyatt Erawan would be the best place for you. Boston Lobster, Mussels, Red Snapper Scallops and Whole Dover Sole are some of the best foods which one should always try while dining at Tables.
Eat Me Restaurant
Superb cuisine along with attentive service is the reason why one should eat at Eat Me Restaurant. It has great ambience in which one can relax and relish finely cooked fish, seafood and phenomenal desserts.  
These were some of the top restaurants in Bangkok which are worth visiting. So, plan a trip to this wonderful city and enjoy the dining at the abovementioned Bangkok's best restaurants.
Image Credit: moodiereport.com
Top Restaurants In Bangkok