Top Restaurants In Glasgow

14 Apr 2011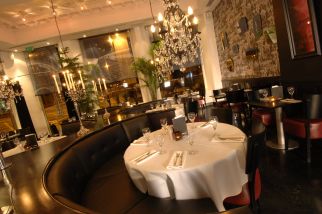 Whenever you are travelling you look for a guide that will help you to find the best hotel among the rest. Just in case you are travelling to Glasgow, we have a list of top restaurants in Glasgow.
These restaurants have been categorised based on menu, ambience, value for money, and service and overall features.  This list contains some Indian restaurants too.
Grill on the Corner: This restaurant ranks at the top for all its features. Grill on the corner is run by the Blackhouse Restaurants. It has a good ambience, food, service and promises value for money. This restaurant serves amazing food, specially BBQ.  All the menu is reasonably priced to please the eaters coming here. The best dish served here is the Kobe steak.
Bombay blues: It is a place you should go to if you are fond of food. You will be offered with wonderfully tasting food and great menus. The restaurant can be rated good for its service, atmosphere and value for money.
Red onion:  Another place for food lovers. This place offers an amazing menu to you. Starting from starters to the main menu.
Brian Maule's: This restaurant has been serving since 2001. Brian Maule's has earned an award for its fine dining facilities. The restaurant has private dining rooms, banquets for special occasions, meeting rooms. Brian Maule's offers special menus for various occasions.
 The Marks Hotel: This hotel is for contemporary dining. Its restaurant One Ten Grill offers relaxing and entertaining atmosphere for family and friends. The food is as delicious as itr can be. The overall ambience makes this place a top scorer on  our list.
The Dhaba: It is one of the best Indian restaurants in Glasgow. The Dhaba is known for its North Indian cuisines, specially the curries. It promises the perfect Indian food and ambience to its guests. Perfect for some spicy and tasty meal.
Two Fat Ladies: This is seafood or fish restaurant in Glasgow. Most oif the amazing fish dishes are served here. The place is small but very comfortable. You can enjoy good food and relaxing atmosphere.  Two Fat Ladies is just the right place for romantic encounters and also for large party crowd.
The Sisters: This is a Scottish Restaurant run by  two sisters hence the name. If you are found the original Scottish food and cuisine then The Sisters has it for you.  The place is small, so is the menu and gives you high satisfaction at small prices.
Panda Restaurant: This is a Chinese restaurant in Glasgow. You can enjoy buffet meals here. You can the choice of ala carte to all you can eat here. This place promises good food and fun together.
Bistro at Hotel du Vin: This place served French, modern cuisine, and Bistro. You get French food served in the British ambience. Enjoy the food and the ambience at Bistro.
This list can be as huge as you may want. The food tastes change and so do the places. Try this list of top restaurants in Glasgow. Enjoy some of these good restaurants and  sprightly hangout places in Glasgow. 
Top Restaurants In Glasgow