Top Restaurants In Fort Worth

11 Apr 2011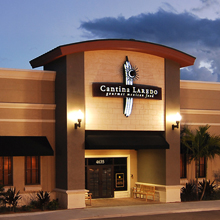 Top restaurants in Fort Worth are acclaimed to serve rich food that plays a pivotal role in making the city one of the best tourist destinations in Texas. A perfect mix of Western heritage and unrivaled artistic values, Fort Worth boasts some of the finest restaurants of the world. They all are known to offer flavourful food and exceptional hospitality, all of which are hallmark to Texas culture. So, let's see some of the top restaurants in Fort Worth, Texas that are worth visiting.
Cafe Cipriani
Are you crazy for tender steamed seafood, juicy chops, well-dressed salads and pastas, then go for Café Ciprani. Revered for its northern Italian cuisine, you will also get a special treatment from the wait staff. In addition, the desserts and assorted list of wine completes your dinner and make it a memorable experience.
Buttons Food and Music
You will be the lucky one to visit this restaurant as here, you will be offered foods prepared by noted chef Keith Hicks. The dishes prepared by him are not only great in taste but also very tempting and appealing in looks. Apart from delicious food, the ambience of restaurant becomes soothing with live music. All these qualities are more than enough to term Buttons Food and Music as one of the top restaurants in Fort Worth.
Café Modern
Café Modern is known for its artistically crafted dishes which are delicious in taste. The cuisines served in this restaurant are a perfect blend of local ingredients and seasonal fruits and vegetables. Further, their warm hospitality will make you visit this place again and again.
Cantina Laredo
Lip smacking Mexican cuisine served in sophisticated atmosphere is the best feature of Cantina Laredo that makes it one of the top restaurants in Fort Worth, Texas. Some of the best foods served in this restaurant are grilled chicken, fish specials, portobello mushrooms, roasted red bell peppers, and steaks.
Del Frisco's Double Eagle Steak House
You would get a chance to feast on some of the best steaks at this restaurant. It is considered as number one steakhouse for its outstanding preparation, so don't miss to visit this place.
These were some of the top restaurants in Fort Worth where dining becomes a memorable experience. You must have seen from the abovementioned list of best restaurants that Fort Worth has everything to suit your appetite. Whether you have a craving fro Italian cuisine, or steakhouse, or if you want to feast American food or seafood, Fort Worth restaurants offer you everything.
Image Credit: cantinalaredo.com 
Top Restaurants In Fort Worth