Top Restaurants In Washington
8 Apr 2011
Top restaurants in Washington are where you can find world's best scones, oysters and sinfully delectable gooey duck. So, if you consider yourself epicurean of sorts, then our best picks on top restaurants in Washington, D.C. will ensure that you do not miss out on the delight of dining on some of the drool-worthy delights of the land amidst top-notch ambiance. Scroll down to know more on what Washington restaurants has to offer.
Places To Dine In Washington, D.C.

 
1789

Georgetown, Washington

 
This is the ultimate place to dine in if you wish to experience the quintessential Washington gourmet experience. Nestled amidst refurbished Federal House, this elegant eatery offers you the luxury of dining on sinful starters, lip-smacking entrée, delectable desserts, appetite boosting aperitif and sparkling white wine, all amidst a laid-back, country-inn ambiance. And yes, don't forget to carry your dinner jackets along!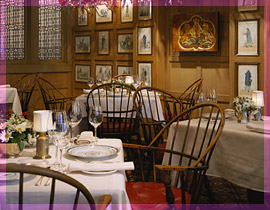 Citronelle

3000 M St. NW, Washington

 
The ultimate hub for the food connoisseurs, boasts of impeccably crafted menu, all thanks to world-famous chef Michael Richard. Touted as one of the "most exciting" eateries in the world, this restaurant treats you to East Coast style of dining experience. With superlative French cuisine, widespread wine list and a romantic ambiance to boast of, dining here is definitely some experience.
Occidental Restaurant

1475 Pennsylvania Avenue NW

 
This is the place to go if you have a thing for seafood. With an exotic smorgasbord of savories, game dishes, classic fish cuisines and amazing cocktails, eating here is an experience to remember. The beer selection is top-class and the excellent pub fare just adds to the visitors delight. A highly recommended place in Washington. 

 

J & G Steakhouse

W Hotel, 515 15th Street

 
If the idea of eating conventional cuisine in a contemporary setting sounds exciting enough, then J & G Steakhouse is the place to go. This place boasts of a sophisticated smorgasbord of steak and seafood, awesome local beers and the delight of dining in a stunning wood and stone setting. 
Komi

1509 17th St. NW

 
Komi is a haven for the foodies. A multi-cuisine restaurant serving Mediterranean, American and Italian cuisines, Komi truly offers a fine-dining experience to the gourmands. Great stuff and an exotic ambience is the best way to sum-up the attraction of this place. 
Here are the best picked top restaurants of Washington presenting delectable stuff and awesome ambience. Visit the top restaurants in Washington, D.C and have an memorable experience.

 
Image Credits: Vagablond, 1789restaurant, Cityknown, Metromix, Downtowndc, Flickr
Top Restaurants In Washington