Top Restaurants In Knoxville
7 Apr 2011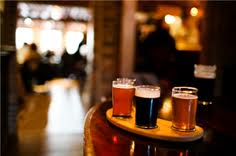 Although with a population of barely about 20 grand, choices for the top restaurants in Knoxville, Tennessee's third largest city are eclectic. There are many of them that whip up an amazing meal for you offering many cuisines. Another trivia about Knoxville's restaurants is that they are all non-smoking! That is to say, if you love your nicotine puffs, you will be disappointed.
Here are the choices for top restaurants in Knoxville
Tomato Head
Can a restaurant sound anymore American than this? We guess not. On their menu are some delicious homemade breads, dressings, salsas, dips and desserts. Their specials are, however, their pizzas, sandwiches and salads. Also check out their full wine and beer list in economical prices.
Taste of Thai
From American, straight to far eastern cuisine. Taste of Thai offers delectable Thai fare and is especially known for their homemade drunken and green noodles, lemongrass and coconut soups, and the Mango Sticky Rice dessert. If you are a sucker for Thai cuisine, this place is not to be missed. While their try their green curry, pud thai, chicken in hot garlic sauce and pik king pork.
Chez Guevara
It sounds Latin American but serves Mexican. Try their Chimichanga, Alaskan king crab enchiladas and smoked shrimp quesadillas. They are also known for their vegetarian dishes. Their bar is also worth checking out.
Café 4
Situation in the Market Square area, Café 4 houses a restaurant, bakery and a coffeehouse – all rolled into one. Their pricing is moderate and they specialize in comfort food. Café 4 also wears a contemporary look and provides complimentary WiFi.
The Olive Garden
As Italian as it sounds, The Olive Garden is known for its Italian fare. They run the Culinary Institute of Tuscany hence you get to taste the inspirational dishes created by the institute at The Olive Garden. Their salads, pizzas, chicken, seafood and classic recipes are delectable at best.
Litton's Market
If you are in a hurry to grab a burger and have no time for a proper meal, Litton's Market is the place to head to. Although their queue is a bit long their burgers and desserts are voted best in the Best of Knoxville poll in the years 2005, 2006, 2007 and 2009. So you know we are just not recommending it in random.
Nama Sushi Bar
Feel like Sushi in Knoxville? We strongly recommend you head to the Nama Sushi Bar. Not just because their Sushi bar is out of this world, also because their style is a fusion of Japanese / Korean / Spanish / American flavors. What more can you ask for?
Image Credit: trails.com
Top Restaurants In Knoxville