Top Restaurants In Little Rock
7 Apr 2011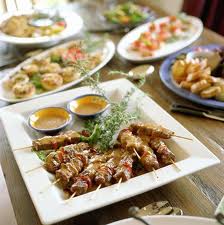 Looking for top restaurants in Little Rock? Don't be surprised if you are spoilt for choices in the capital city of Arkansas. Pricey or economical, there is a restaurant that suits your every need in Little Rock. Here's a brief list.
Top restaurants in Little Rock
Brave New Restaurant
If it's fine dining in Little Rock, it's got to be at the Brave New restaurant. Not only does Brave have an amazing view and chic interiors, it also has super imaginative menu that stocks lip smacking seafood specials. Call in for reservation before you go to avoid disappointments.
Trio's Restaurant
The best quality fine dining is offered at the Trio's in an elegant atmosphere. They are open for lunch and dinner from Monday through Saturday.
Ferneau
Ferneau's quirky title comes from its chef cum founder who goes by the same name. The restaurant's decors are romantic at best. Another specialty about Ferneau is that it serves up local delicacies with ingredients sourced exclusively from local resources.
Vieux Carre
Are you on a date? Take him / her to Vieux Carre and the first thing your date would feel is comfortable. The place exudes such warmth that it's impossible to miss its cozy feel. The crisp menu features salads and entrée but the choices are limited. If you are with a date, you wouldn't care much about the variety. Would you?
Ashley's at the Capitol
Craving for fusion cuisine? Head to Ashley's that features southern cuisine with a tinge of French cuisine. Like Ferneau, Ashley's also sources its ingredients from locally grown products. Ashley's is also famous for its wine list and Sunday brunch.
Sonny Williams' Steak Room
Fans of Sonny Williams' Steak Room swear by their steaks. It's also said that they serve the best steak in Arkansas. Must be true, because the place is always full. While there, also try their piano bar.
1620 Restaurant
Feel like seafood? Head straight to the elegantly done up 1620 Restaurant. They serve fresh seafood and their daily specials are a treat to your taste buds. And, it's perfect if you are on a date.
Ristorante Capeo
From the name of it, you would have guessed that Ristorante Capeo serves Italian food. Bingo. Ristorante Capeo also offers the best service in the area and serves Italian specialties with an imaginative twist.
Image Credit: hotgurgaon.com
Top Restaurants In Little Rock