Decorative Bottle Ideas For Your Home

14 Jan 2011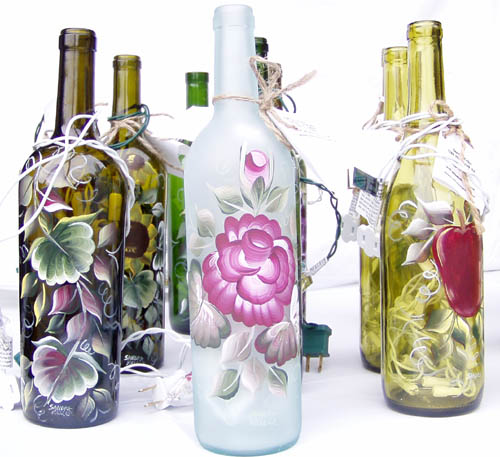 We use Glass bottles for almost everything, storing water, wine or champagne, but this is about Decorative bottle ideas for your home. A few of the colorful creative concepts to use as your Decorative Bottle ideas line-up are:
Wine bottles Decoration- There are a various types of decorative bottle ideas pertaining to wine bottles. They come in various colors and sizes, so taking advantage of this one fact, one of the first ways to use them as a new fresh decoration would be to take clean empty wine bottles of varying sizes, preferably of increasing order, and to keep them on the top of a cabinet. The look of various colorful wine bottles stacked together will look very pretty.
Another Decorative bottle idea for wine bottle would be to simply keep full, half-filled or empty bottles in varying sizes in front of a mirror. With dim lighting, the dual effect of gleaming bottles will give your room a bee-utiful effect!
Lamp shades- If you are a little experimental kind then you can take a nice wide wine bottle, screw a little hole in the base and purchase a lamp wire kit. Put on a nice contemporary shade, and you have a unique bottle-lamp ready.
Champagne Bottles- They are the most slender looking bottles when it comes to the bottle necks. Once, cleaned and dried, these can be decorated according to any theme that you may want. Say, if you have a wedding party planned, you can stick black paper around the lower half of the bottle, with a cut out of the tux white shirt with a bow around the neck of the bottle. Or say it's a baby shower; in that case, you can cover the bottle in a felt white and pink sheet. Add to it a paper bib and a cute diaper all with a cute cartoon face, the baby would be all ready!
If you want to try out a decorative bottle idea that allows you to freak out and get a classy and elegant result, try the Victorian Decorative Bottle idea. In this, take a simple Doily and stick it to the center of the face of the bottle. After it has been stuck firmly, take the sparkling glue, beads, and buttons and go creative! You can tie a string of pearls around the neck of the bottle, use a lot of silver, mirrors, and voila! It's a beautiful Victorian beauty!
Another decorative bottle idea is to make Flower vases out of decorative bottle ideas. Dry a few flowers and stick them onto the bottle making abstract designs with acrylic paints.
Use recyclable materials like, condiments such as Nutmegs and Cardamoms or veggies like preserved tomatoes, red chilies and carrots. Store them in transparent bottles and they make excellent kitchen-dining decorative bottle ideas.
Things to keep in mind while putting Decorative Bottle ideas to practice:
Always clean the bottle with water and detergent. Dry it in the open with natural sunlight. This will ensure no creepy crawlies want to get in it.
Always try and use acrylic paint, since it will not come off easily.
Try and use transfers like the ones we use on paper, it works the same way.
You can use stickers to add dimensions to your bottle. If the mouth of the bottle is wide, you can insert cut-outs or stickers and stick them to the inside of the bottle.
Glue on the small items like tiny beads, stars and buttons which can bring a new look to the bottle.
Try this out! After all, it's not good to keep that creativity bottled up inside!!
Decorative Bottle Ideas For Your Home