10 Most Expensive Foods - Part 1
In the era of recession and budget recipes, it is interesting to take a look at the ridiculous amount of money people have spent on some of the most expensive foods!  Here is a peep view of the most expensive food produced, consumed and sold over the past few years:



Most Expensive Food 1- Caviar
Almas Caviar is the most expensive caviar in the world. It comes from a 100 year old beluga fish which has remained unchanged for the last 120 million years. It is actually the oldest survivor of the dinosaur era. Looks like they are eating up all the paleontological evidence! It comes in a 24K gold tin and is sold for an incredible price of $23,308 per 32oz.



Most Expensive Food 2- Sandwich
The Essen aka von Essen Platinum Club sandwich from Essen, Berkshire is a triple-decker delicacy and the worlds most expensive sandwich. This sandwich uses chicken poulet de Bresse referred to as the 'fourth gastronomic wonder of the world with a white truffles topping. It costs upto100 pounds (almost 200 dollars).



Most Expensive Food 3- Pizza
The most expensive pizza is the Luxury Pizza which is the creation of Nino Selimaj, owner of Nino's Bellissima in Manhattan. This 12-inch thin crust pizza has toppings made from six different type of caviar that has to be ordered specifically. Lobster, crème fraîche, and chives. are the additional toppings of this $1,000 pizza!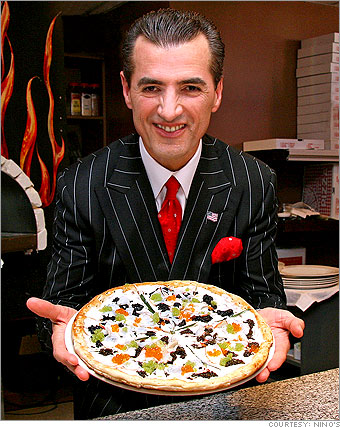 Most Expensive Food 4- Omelet
The most expensive omelet is the creation of Chef Emilio Castillo of Normas restaurant from the Le Parker Meridien restaurant in New York. This $1,000 omelet consists of 10 ounces of sevruga caviar, a whole lobster, and six eggs. A seafood fork made of platinum and a few precious stones helps you gobble this omelet named The Zillion Dollar Lobster Frittata. A smaller version is also available for $100



Most Expensive Food 5 – Cake
A fruit cake encrusted with 223 small diamonds was for sale for an unbelievable $1.6 million in December 2005. This most expensive fruit cake was made of one of the 17 diamond-themed displays in a Japanese exhibit called "Diamonds: Nature's Miracle". The diamond studded cake was the masterpiece of a Tokyo pastry chef  who took six months to design and one month to create it.
532874-10-most-expensive-foods-part-1.jpgv0
That's just the first five from the most expensive food list. Don't miss the next list that includes the most expensive desserts, chocolate and beverages.
Image Credit
wineandfoodtube
cnn