"Paan" Flavoured Condoms
"PAAN" FLAVOURED CONDOMS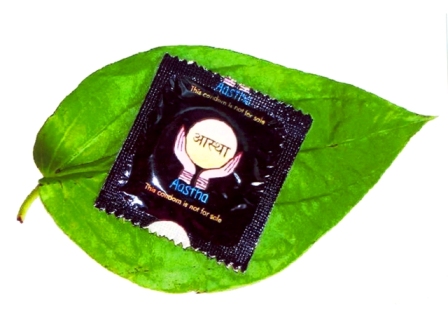 India's first customized condom for sex workers and World's only condom available in "Paan" flavour.
The good old paan with its addictive flavour is now joining India's fight in Birth Control. On 16th July, 2007, In Mumbai, Family Health International (FHI) in collaboration with Hindustan Latex Limited (HLL) launched a "Paan" or Betel flavoured condom called, "AASTHA" as a part of Avahan India AIDS Initiative of the BILL & MELINDA GATES Foundation.
Aastha is a specially designed condom, developed on the basis of feedback from Sex Workers (SWs). A test of chocolate, strawberry, banana and paan was carried out and there was widespread preference for the paan flavour (understandably so as the demand for oral sex on Commercial Sex Workers is rising and 90% of them consume paan). The success of this condom will also lie in its packaging. It is reddish-pink in colour and the packaging looks like a mouth freshener sachet…easy to buy and carry.

With "Aastha" ready to be flood the market soon, the makers surely hope that the new Pan-Indian flavour will give them the sweet smell of success.
Here are some facts that I found really interesting :
Name of the condom is same as that of the project: selected by sex workers.
Logo made from prize winning design through a painting competition among sex workers.
Tailored design based on feedback from sex workers.
Extensive use across extreme field conditions feeding into continuous quality improvement.
More than 13 million condoms distributed till date.
This incident occurred when I was returning in the local train. A gentleman (on seeing the "Aastha" brochure/picture in my hand) questioned me about this new product. I told him about the launch of a "Paan" flavoured condom. He seemed curious, "Why add flavours to condoms?" I hesitated, "Well, some people like indulging in oral sex." He persisted, "Why have oral sex?"
Also, he didn't much like the name "Aastha". He suggested, "Aastha sounds too religious. These condoms won't sell. The least they could have done was change the spelling. They should have called it "ASS-THA"!!!
The train pulled up at Bandra. The gentleman handed me his visiting card and got off. He is a professor of Marketing attached to the University of Wales!
"Paan" Flavoured Condoms