National Chocolate Fondue Day

4 Feb 2013
February is the month of romantics! It is not just because of the Valentine's Day but also because of a dish that originated in the 19th Century Switzerland and came to be celebrated on February 5 as the National Chocolate Fondue Day. Although, fondue was first made with hardened cheese, it was not until the 1960s that popular dinner parties started having the chocolate version of it. Needless to say that the chocolate dessert version is the most popular today. You can use fondue to enliven any party with fresh fruits like banana, tangerines, strawberries, cookies or cakes, marshmallows, and pretzels to dip into it. In case you are in mood for this day, here are a few recipes to choose from.
A very sweet recipe that would be suitable for dessert too. The ingredients are basic and the resulting fondue is very creamy and worth enjoying with cheese.
A dash of orange liqueur or brandy is added to bittersweet chocolate to make this spirited recipe. Whipped cream is served atop the fondue, to cut down the bitterness of the liqueur.
Just like the ad says, you need to earn this fondue as well. Pick your favorite flavor of Bournville chocolate and use it to prepare this creamy concoction. Don't forget to add a dash of rum as well.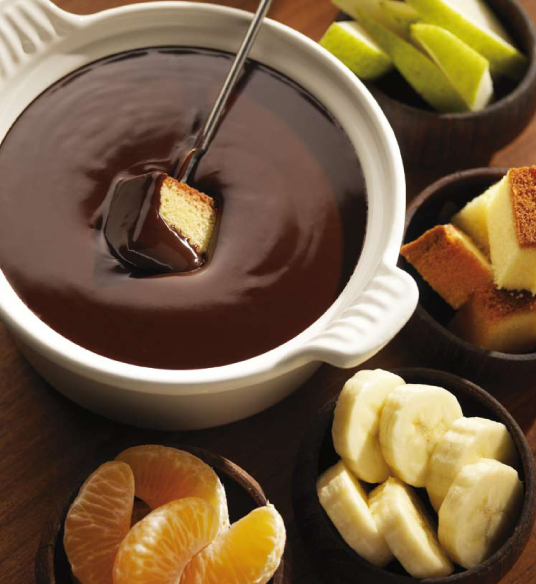 Made with some of the most romantic and exotic ingredients, this should be your choice of fondue for this year's Valentine's Day party as well. This fondue is made with organic chocolate and marshmallows, among other ingredients.
Black & White Chocolate Fondue
You can make this fondue with semi-sweet chocolate, whipped cream, brandy, and white chocolate. The result is a marble-effect fondue, which is not only good to eat but good to look at too.
Other Articles You May Like To Read:
1. Foodie Thoughts For 5 February
2. What Drinks To Serve At A Fondue Party
Image Courtesy: 365foods, lindt, dianasdesserts, theeconomicaleater
National Chocolate Fondue Day