How To Write A Cookbook With Salivating Recipes
7 Sep 2012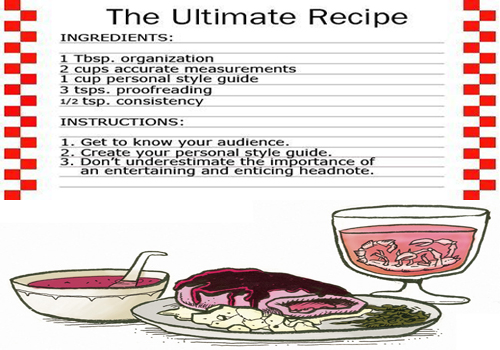 Explaining the cooking process by means of recipes that  can be easily converted into a mouth watering dishes is the sole purpose of a cookbook.  However, just jotting it all down haphazardly will not do even if you happen to be a Master Chef. There are certain tricks and tips that you need to be aware of which will help to turn a home based amateur cook into a chef, adept at whipping up gourmet dishes. The art of writing and the science of cooking, combined together in a desirable manner is essential for creating a recipe on paper. Here are some guidelines to help you out. Do take a look and see what makes a good cookbook.
Tips To Write The Winning Recipe
Luring the home cook to complex dishes of your choice requires hard work. You must be prepared to work on all aspects so that your recipe can take the place of a teacher as well as a benevolent guide. This is how you can go about it.
Understanding Food

Knowledge is power even when it comes to writing about food. A basic understanding of the topic is essential whether you are a pastry chef, a gastronome, or an amateur foodie. It is also necessary to come out of your comfort zone and get a fair bit of idea about different types of foods that you have never experimented with. Learning about various cuisines, food groups and nutritive values are as important as checking out the measurements and cooking time.
Identifying The Purpose

You need to be clear in your head about the actual reason for writing the recipes. Also, be sure to ascertain your target reader. Will it be for the families or for restaurant cooking or are you interested to address the concern of people who need to follow a restrictive diet? The language and words used should be in accordance with the purpose of your recipe if you want it to be popular.
Recipe Name

Herein lies the trick! You are free to let your imagination run wild as you conjure up names that would interest your reader. The actual recipe might use every day, common place ingredients; something as simple as chicken and garlic but trying to create a fantasy for your reader will have to create something that ensures that your recipe is read and read and then read yet again. It is common human psychology to get attracted to the lure of the unknown and you must be the one to give your reader the opportunity of enacting his/her food fantasy.
The Ingredient List

It is best to keep the list of ingredients short when you are writing for the web. A long and never-ending list will easily distract the reader and your recipe might be overlooked however good it is. The measurements need to be accurate and every aspect of the ingredients namely alternate names or alternative ingredients need to be included as well. This will help the reader to make use of the things that are easily found instead of having to visit exotic shops.
Describing The Procedure

This is where the hard work comes in. While you need to KISS (Keep it simple silly!), you also get a free rein to play with words thus allowing the reader to see the food right in front of their eyes as they go through the recipe. Using adjectives like tender, juicy, crumbling, gelatinous, golden yellow etc will lend a character to the food and the reader will get the notion of how the dish/ingredient is supposed to taste and look at the end of each stage. The purpose- to get your reader salivating!
Photographs

Arm yourself with a good quality digital camera or even a high-resolution mobile phone and start clicking away. It is best to include a large and clear image of the cooked and plated dish, ready for serving. Remember that a picture speaks louder than a thousand words put together and your writing time can be cut substantially if you happen to have superior quality photographs handy.
Proofread & Edit

Self-editing is the best way to check your recipes as you have a fair idea of how you want it to be presented. Read through all the recipes thoroughly and get rid of any factual errors,  typos and grammatical errors that may have crept in inadvertently. Make sure to highlight the points that you want to emphasize and you are good to go.
Publication

Finding a publisher before you begin to write your cookbook will help you to minimize the time between writing and publication.
Wait for your recipe to be published and enjoy your glory as an author. A well-written recipe can have a profound effect on a foodie akin to that of a beautiful painting or delightful music that will lure the reader to transfer it from the pages of your cookbook on to a plate.
Image Credit- cartoonist; healthyvoyager; countrycleaver  ; ifood.tv  ; writing.pppst; prismaticpublishing; blogher ; archives.frederatorblogs 
How To Write A Cookbook With Salivating Recipes