FoodieSEO: Social Media Optimization & How to Use Facebook Pages

5 Apr 2012
Last entry, we discussed On-Page Optimization. This week we're going to delve a little more into another form of Off-Page Optimization: Social Media Optimization, or SMO! SMO is a great way to increase your online presence and your ranking. Let's get started.
WHAT IS SOCIAL MEDIA?
Social media refers to online communities where content is mostly user generated, and the focus is social interaction. Users create content and then organize, edit, comment on, combine and share it. Here are some of the most popular types of social media right now: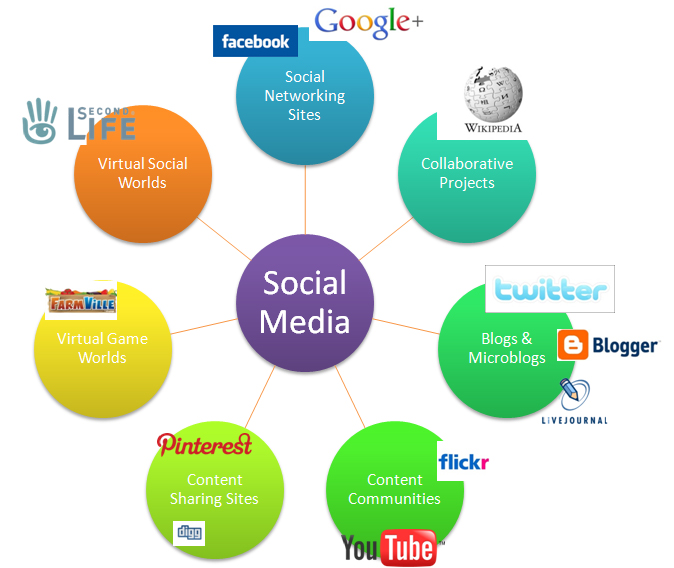 Examples of social media include:
Social Networking Sites: Facebook, Myspace, Google+
Collaborative projects: Wikis, Social bookmarking (Delicious)
Blogs & Microblogs: Blogger, LiveJournal, Twitter
Content communities: Flickr, Youtube
Content Sharing Sites: Pinterest, Digg, Imgur
Virtual game worlds: Farmville, Cafeworld
Virtual social worlds: Second Life

 
We'll go over some of the most popular social media sites in later entries.
WHY IS SOCIAL MEDIA OPTIMIZATION IMPORTANT? 
You should have profiles on the most prominent social media sites, and make content on your foodie site easily shareable. But why? How does social media help your brand?
1) Increase Your Traffic
If your content is compelling and easily shareable, your audience may share it with their friends. This will give you higher brand exposure, as your content may reach new audiences that you could not reach yourself.
More sites are seeing traffic from social media. For some sites, this traffic outnumbers traffic from search engines! As seen in the chart below, ComedyCentral.com gets 21.4% of their referral traffic from Social Networks, compared to 15.4% from search engines!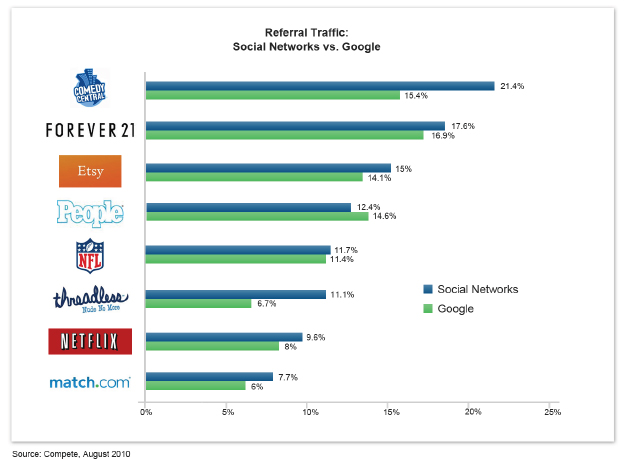 2) Increase Your Ranking
Getting more links through sharing on social media will signal to search engines that you are a trusted authority. This will increase your ranking and improve your SEO.
3) Engage With Your Fans
Social media is a great tool for engaging with targeted fans! 
You can share content and ideas with them and receive feedback to find out what is the most popular. This can help shape your content creation strategy. 
Using social media helps you create a more personal relationship with your audience, creating brand loyalty.
4) Cutting Through Spam
People are getting more information from their peers. Search is still huge for finding out information, but a lot of people now find their answers on social media. Don't miss out! Make sure you have a presence on social media so you can contribute your content in case it helps someone.
FACEBOOK FOR YOUR BRAND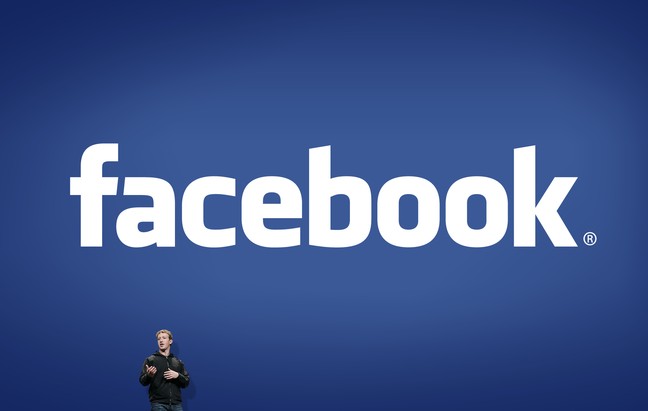 Now, when you think social media, the first site that comes to mind is probably Facebook. We'll discuss other social media sites in later entries, but let's talk about Facebook this week.
Whether you're a Facebook pro or have shunned this site for all its hype, if you're serious about building an online brand, you need to get on Facebook. 
Why? Sheer numbers. Facebook had 845 million monthly active users at the end of December 2011. It's the second most popular site in the world (behind Google), according to Compete.com. 2/3 of U.S. Facebook users are outside of the college demographic, so no matter how old your target audience is, chances are, they are on Facebook!
Hubspot wrote a great whitepaper on How to Use Facebook for Business. To save you time, I'm going to only cover the most important and relevant points here. However if you want to read the full ebook, click the link to download it!
CREATE A FACEBOOK PAGE
Facebook has 2 types of ways to create a presence: Personal Profiles and Business Pages. 
Personal Profiles are just that: Personal Profiles for you as an individual. To create a profile, you must create an account on Facebook.com using your name. You can use this profile to connect with other people by becoming their friend, which requires mutual acceptance of "friend requests". This should not be used to represent your website or brand! You should create a personal account for yourself, and then use this account to create a Page for your blog or brand. A Page looks similar to a profile, but is especially designed for promoting brands. 
Benefits of having a Page
You can have multiple administrators to help manage the account
Pages are publicly viewable by anyone. As a result, they can rank in search engine results. It's another opportunity to for SEO.
Anyone can "like" a Page without having to become your "friend". People who like your Page become fans who see your Page's updates. Thus you can grow your Fan base without having to let anyone see your personal profile.

 
Many of you already have personal accounts, so we're going to drive right into creating a business Page and how to effectively use that Page!
SETTING UP A PAGE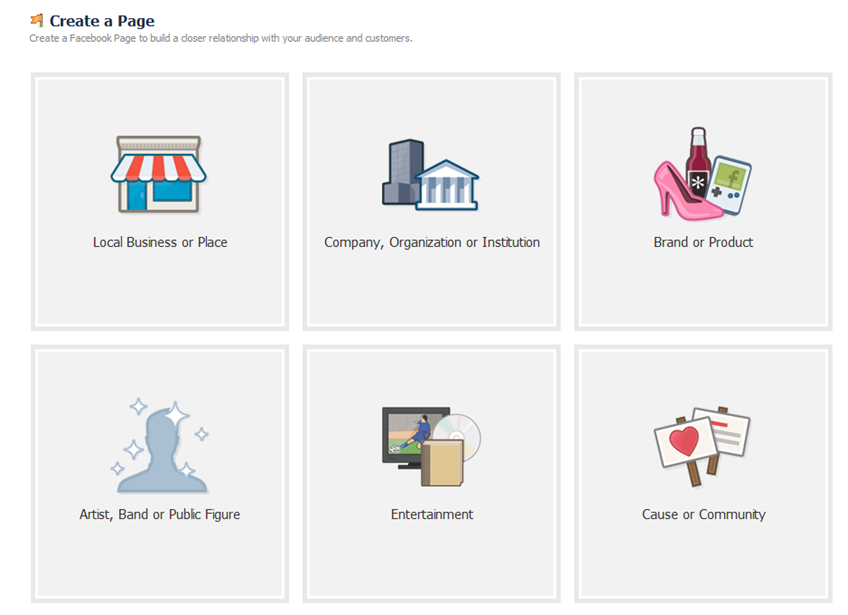 Go to www.facebook.com/pages/create.php and follow Facebook's step by step instructions to create a Page. You'll have to choose your Page's category, name, and add a logo and cover photo. 
Your own name and profile will not show up anywhere on your Page. Choose your Page's name carefully! It can be the name of your brand, but it will represent your Page identity. Whenever you post on your Page, it will show up as a post from the Page rather than your personal profile. 
Fill out your Page's information as completely as possible, including the About Me, the Company Overview and Contact Information. You're creating a Page for your brand, so make it interesting! Tell your fans what you're about.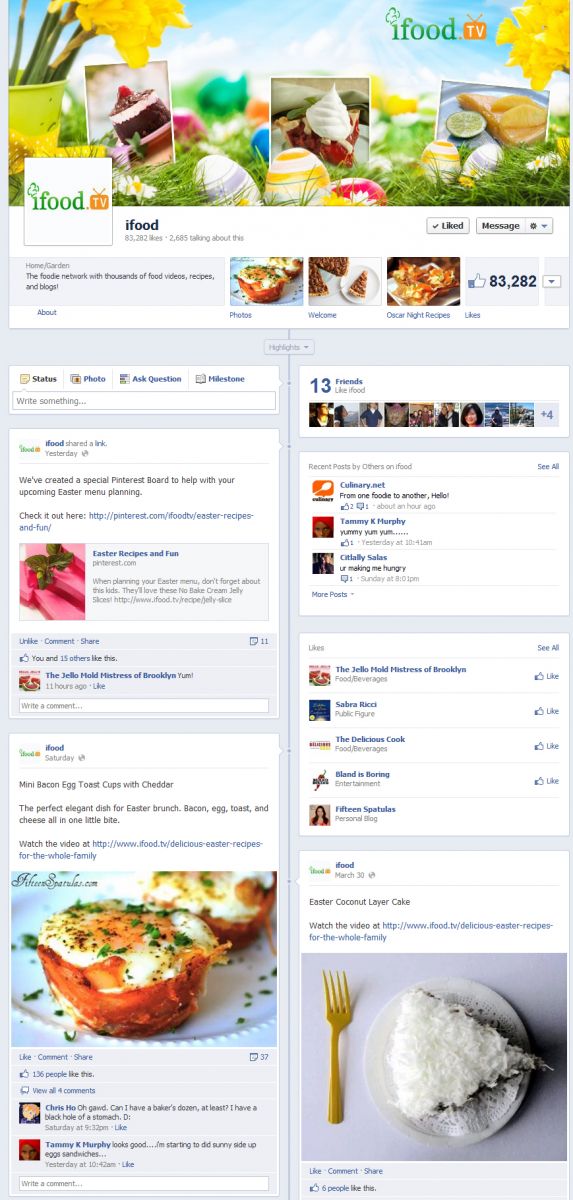 All Pages shifted to a new Timeline format on March 30, 2012. Here's iFood.tv's Facebook Page.
Your Page's content and posts will be presented in a timeline format, telling the story of your brand.
You'll have a main cover photo at the top which cannot have any calls-to-action, contact information, or "sales-y" language. Use a high resolution image sized 851 by 315 pixels. The image should communicate what your brand is about.
You can rotate this cover photo seasonally. Have fun with it! In our case, we decided to showcase some yummy spring recipes with an Easter background for April.
You can also create custom apps for your Facebook Page, which are essentially little mini Pages that used to be the tabs of the old Facebook Profile. You can choose which apps will be highlighted at the top of your Page, but you are limited to three. Photos will always be the first app in the list.
There is a box which displays recent posts from Fans on your wall Page, if you allow Fan comments.
Your individual posts will show up as stories presented on your timeline. You can post photos, status updates, links, videos, polls, etc. 
The timeline format will also highlight Pages that you have added to your Page's favorites. This is a great way to connect with other foodie Pages. Now you can tag these Pages in your posts. Simply type @pagename, and replace "pagename" with the name of the Page you are trying to tag. The other Page will be notified of your tag, and the tag will also show up on their Page. This is a great way to show some love to other Pages while simultaneously promoting yourself to their fans!
Once you've set up your profile and posted some content, it will look like this. So start posting content! Mashable has a great slideshow of 10 different Facebook Pages that are using the Timeline in a innovative way. Take a look here. Use this as inspiration for your cover photo and timeline ideas.
ENGAGING WITH FANS ON YOUR PAGE
Now you're reading to start using your Page to engage! You should post some content first before you try to get fans - otherwise, why would anyone like your Page? You need to establish a precedent for the type of content you will be posting so people know what to expect when they see your Page for the first time.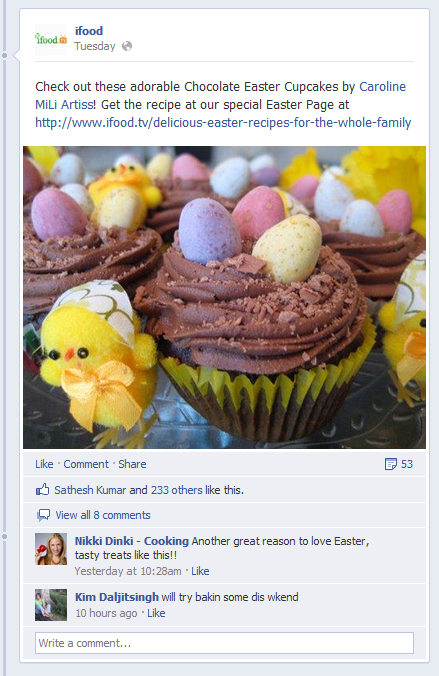 What kinds of content should you share? Anything! Promote your own recipes and videos. Use Facebook as a way to announce when you release something new. But here are some other ways to post more creatively so your Facebook Page doesn't become too "salesy" and artificial.
Your goal is to get fans to engage with you either through:
Liking a post
Commenting on a post
Posting on your wall
Sharing a post
To the right is an example of one of our more engaging wall posts: it received 234 likes, 8 comments and was shared 53 times.
Fan Engagement will achieve two things
Get your fans to engage with you, and create a personal relationship that provides them with value.
Make it more likely that other users who are friends with your fans will end up seeing your Page.

If a friend likes your post or comments on it, their activity will show up in the newsfeed of another user. That user might click on your post to find out more and arrive at your Facebook Page.
HOW TO ENGAGE WITH FACEBOOK FANS ON YOUR PAGE
1) Post Photos
Users love photos, and engage with them more actively. Post quality pictures of your products, recipes, behind-the-scenes, etc! Our Facebook Fan Page focuses on posting images of recipes from partners such as yourself. The image descriptions will contain a link to the recipe on iFood.tv.
2)  Ask Questions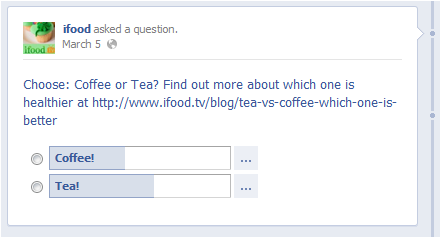 Get your fans' opinions on new products or ideas. 
Posts with the keywords "Where", "When" "Would and "Should" get higher rates of engagement. 
Facebook Pages has a built-in feature where you can take polls. Just post a "Question" and you can choose whether to include answer options. For example, we did a poll on Coffee vs. Tea, and received 319 responses.
Encourage fans to share personal stories by asking them about their day in relation to yours! 
3) Post Games and Trivia
Post trivia related to your brand. For example you could post a shocking health statistic, or interesting trivia fact about bananas. Encourage fan feedback by asking "Did you know?" or "True or False?"
4) Interact with Fan Engagement
You should contribute to the discussion to maintain user engagement. Respond to questions and interesting comments. For example if someone comments about a pie recipe, thank them for their response and let them know that you have an entire archive of dessert recipes!
The longer the thread, the higher the level of engagement. Other fans will see the thread and want to chime in.

 
5) Relate to Current Events
Post questions or talk about where you stand on relevant issues. For example health policy, food laws, new restaurants or cooking shows
Ask people questions about their opinions on current events
Post content that is relevant to seasonal events like games or holidays

 
6) Post links to your own recipes and blogs.
After all, your fans are there for you! Use Facebook to let your fans know when you've updated your blog or added a new recipe.

 
7) Ask fans to fill in the blank with questions like "today I ate _____" or 
 Make it easy for fans to respond with one word

 
8)  Be explicit in your posts.
Tell users what you want them to do! If you want them to like something, tell them. Or if you want them to visit a link, tell them! Don't just post content without any direction. You only have a few seconds to capture a fan's attention if you want a response!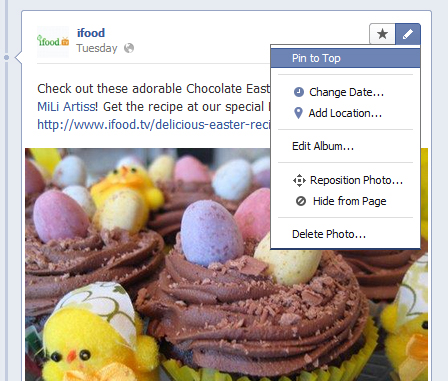 9) Pin posts that you want to promote. 
To pin a post, click on the top right edit icon of a post. Choose "Pin Post". 
This will "pin" the post to the top left of your Page, as shown below.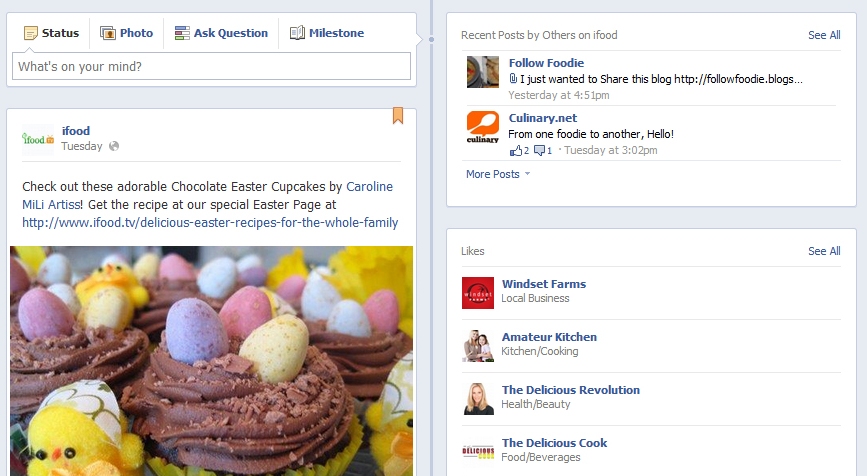 The post will therefore be the first one that visitors will see if they go directly to your Page. Pinned posts will stay up for 7 days.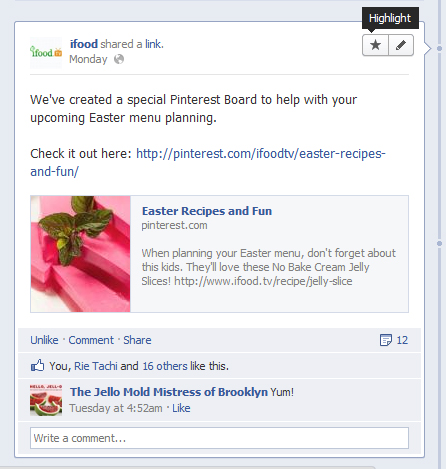 10) Highlight posts
You can highlight posts by clicking the "Star" on the top right corner of a post, as shown in the image to the right.
This will expand the post so it takes up the full width of your timeline. Example of a highlighted post is shown below. As a result, if a user is scanning your timeline, this is more likely to catch their attention. You can do this for posts that are important, especially popular or favorable.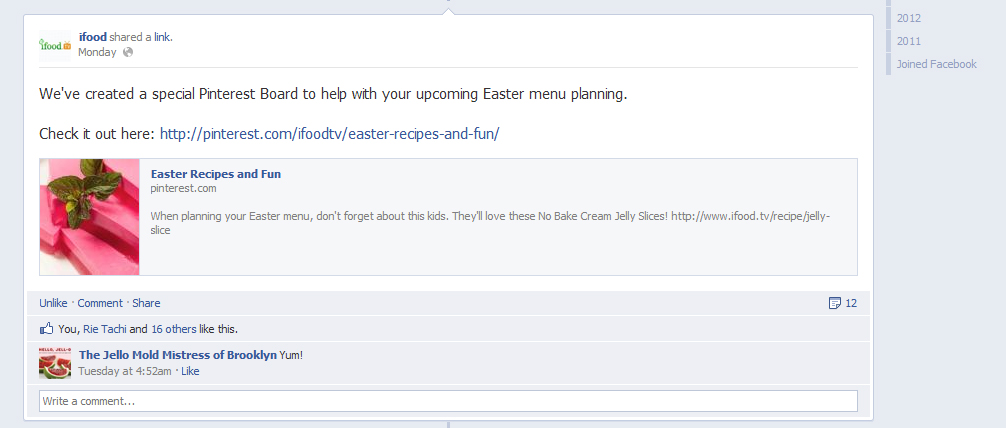 11) Incorporate milestones into your brand's history
You can post a milestone, which is just an important event in your life! To do this, just choose the Milestone option when you post.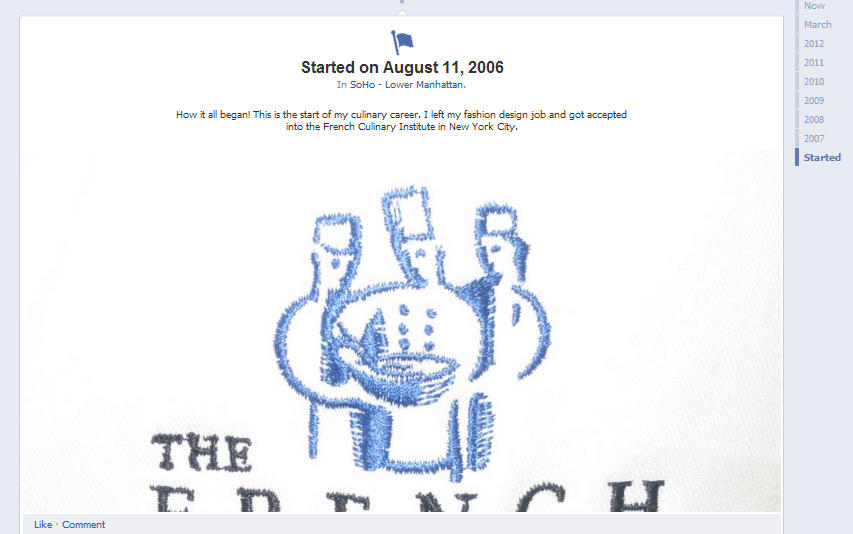 For example, Chef Julie Yoon posts the beginning of her culinary career:
This is similar to a highlighted post in that it takes up the entire width of a facebook timeline. It's also marked with a flag icon to indicate that this was an important event in the timeline's history. This is a great way to give your fans a glimpse behind the scenes and make them feel more connected to your personal story.
EXPERIMENT WITH POSTING
A Buddy Media study found some data from surveying 100 top retail Facebook Pages. They offer the following tips to get maximum engagement from your fans:
Post between 8 pm and 7am. Posts during these hours have increased likes and comments. This is probably because fans are at home during this time and have more time to be online. 
The best day to post is Wednesday
Only post once or twice a day = quality not quantity! If you post too much, fans might get tired of seeing your updates, and they will stop following you.
Post 1 to 4 times a week
Keep your posts between 1-40 characters. If you have to run long, stay under 80 characters.
When offering deals, the most effective keywords were "coupon" and "$ off".
Of course, you should experiment with posts to find out what works for you!
FACEBOOK PAGE ANALYTICS
You'll be able to view your Page's analytics in the "Admin Panel" of your Facebook Page. This will have the following information: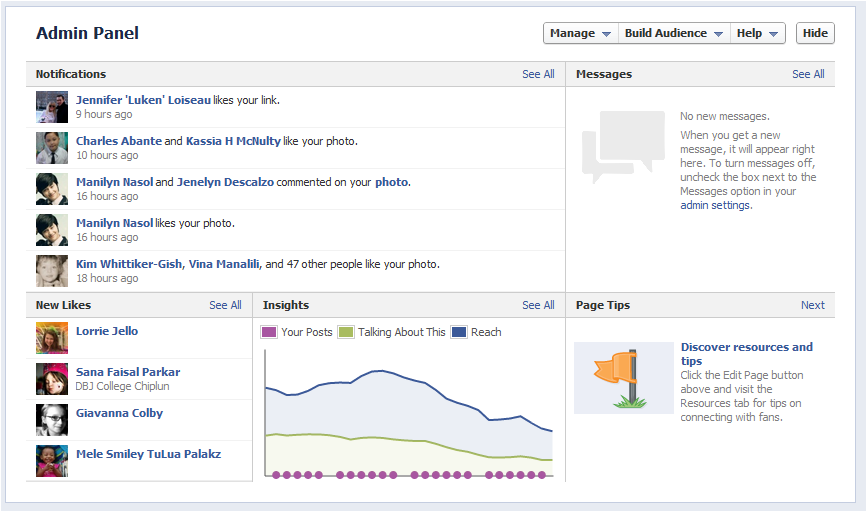 Messages

Users can now send direct messages to your Page. Use this as a customer service channel!

Notifications

New likes, comments, and other activity on your Page

New Likes

The newest people to like your Page

Insights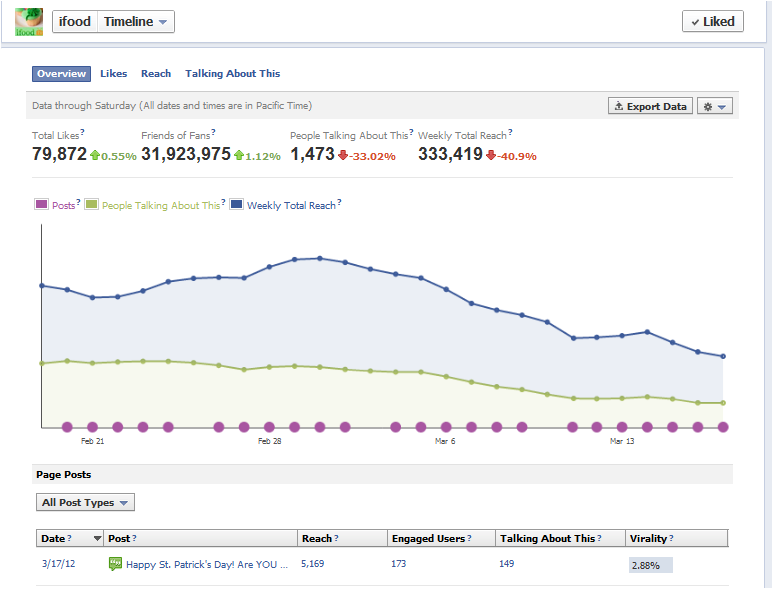 With Insights, you can view detailed information about:
The number of likes and how this fluctuates over time.
The number of unique people who are friends with the people who like your Facebook Page. These people represent the total potential reach of any content you publish to your Facebook Page.
The number of unique individuals who have created a "story" (see definition below) about your Facebook Page during the time period you select.
People can create a story about your Page by:
Liking your Facebook Page
Liking, commenting on, or sharing a post from your Facebook Page
Answering a question you asked on your Page
Responding to an event you posted on your Page
Mentioning your Page within their own posts
Tagging your Page in an uploaded picture
Checking in to or recommending your Facebook Place
Use this information to find out what is working for your fans!
GETTING FANS
There are a variety of ways to get fans.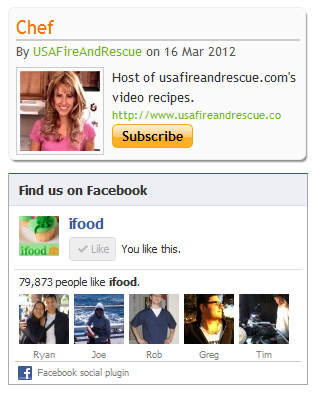 1) Include links on your website to your own Facebook Page.
Add a link (icon)
Add a Like box to your website.
This enables Page owners to attract and gain Likes from their own website. 
The Like Box lets users:
See how many users already like this Page, and which of their friends like it too
Read recent posts from the Page
Like the Page with one click, without needing to visit the Page

 
iFood.tv has included a Like box on the lower right side bar of our recipe Pages.
You can get the code for the Like box from Facebook here.
2) Facebook Ads
You can run ads to get fans. This requires some testing and tweaking, and there are a lot of resources on how to create effective Facebook ads, and how to test. If you want more information, take a look at BuddyMedia's whitepaper on the topic.
3) Create Contests
Run a giveaway on your blog which requires entrants to become a Fan of your Facebook Page before they can win. 
CONCLUSION
Now you have the tools to create your own Facebook Fan Page and start engaging with your fans! We've only covered the basics here. If you want more information, here are some great resources:
Hubspot: How To Use Facebook For Business 2011
Mashable: Social Media Optimization
BuddyMedia: How To Master Facebook Timeline And Ads
FoodieSEO: Social Media Optimization & How To Use Facebook Pages