Cheese fondue
Some time ago I had written about a Wine and Cheese party. Well if you plan that kind of an event then you will end up with leftovers. I am sure you know how to use the wine.... but cheese. That could be hard. Unless you cook extensively everyday. Or if you make a lot of Indian food like I do then cheese would just sit in the back of the refrigerator. Finding the yummy stuff when it can no longer be used would not be ok in the food world.
So here is an option.... Fondue. Either invite people over or just enjoy it as a casual dinner with family. It is a nice conversation starter.
Fondues are a nice alternative to formal dinners. It is a very casual event if you are throwing a fondue party. If you are unaware of Fondue then here is the deal :- Fondue were very popular some years ago. It basically is a pot being warmed by a slow flame like a tea light. The melting could be chocolate, cheese or oil for meat fondue.
The Fondue pot is the center piece and there are long forks or sticks to dip fruits, bread or meat in the pot and enjoy. It is a communal meal. No double dipping please!!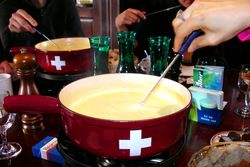 The earthen fondue pot is rubbed with garlic. Some white  wine is mixed with the cheese and melted. Pour it in the earthenware and add some cornstarch to prevent seperation. Dip pieces of bread or fruits and enjoy the cheese. 
If you don't have the special fondue pot then you could use a chafing dish. Fondue pots are famopus again so if you think this is something you might enjoy often then consider investing in one.
Happy Dipping!!
Cheese Fondue