Lemon Verbena Leaf Benefits

19 Aug 2011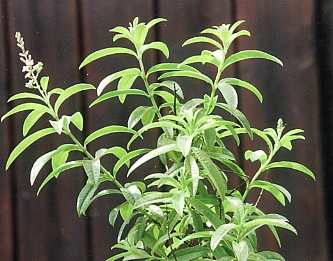 Lemon verbena leaf can add that extra lemony flavor to poultry and fish dishes. It is a perennial shrub native to South American countries. Lemon verbena is a must have in all kitchen gardens with extensive use in various cuisines as well as in medicines. Read on for more information regarding lemon verbena leaf benefits…
Health Benefits of Lemon Verbena Leaf
Lemon verbena leaves have therapeutic uses. It is used extensively in aromatherapy since lemon verbena leaf oil has many restorative effects.
The scent of lemon verbena is fresh and invigorating, hence it is used to relieve fatigue, increase energy, and overcome feelings of disinterest and despondency in aromatherapy.
Steep the leaves in warm water to prepare lemon verbena leaf tea which can combat stress and depression. The tea can be made using dried lemon verbena leaves.
The leaves are a good digestive aid. They promote stomach health and relieve digestive tract spasms, nausea, diarrhea, vomiting, and other related gastrointestinal symptoms.
They have anti fungal activity and have been found to inhibit Candida albicans.
Culinary Uses of Lemon Verbena Leaf
Lemon verbena leaves are aromatic and can impart a lemony flavor and scent to dishes it is added to. The leaves can be added to vegetable marinades, puddings, beverages, jams, salad dressings, fish and fowl. The leaves make very good and effective herbal teas. They can be added to black tea instead of lemon for the same taste and various health benefits. Lemon verbena leaves are used to make sorbet which is especially cooling in summer. Chop and  add to fruit salads or sprinkle over fruit bowls for an exquisite taste. Lemon verbena leaves are used often to flavor processed desserts, and other fruit based foods due to its special affinity to them. The lemony flavor of lemon verbena leaves complements fruity taste like none other.
Image credit: uni-graz.at/~katzer/engl 
Lemon Verbena Leaf Benefits