Lemon Balm Leaf Benefits

11 Aug 2011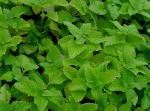 Lemon balm leaf is a perennial herb with a mild lemony flavor. It belongs to the mint family and is native to Mediterranean region and southern Europe. The lemon balm leaves have a mild citrusy aroma. The herb is a known anti-spasmodic and sedative. Read on for more lemon balm leaf benefits…
Lemon Balm Leaf Health Benefits
An effective mosquito repellant.
Lemon balm leaf tea has anti viral and anti bacterial properties. The tea has been proven to be effective against herpes simplex.
Leaves can be used for reducing stress.
Extract of lemon balm leaf can inhibit GABA transaminase and thus is effective against anxiety disorders.
Lemon balm leaf preparations have a positive effect on mental health and moods as proved by the clinical trials conducted.
Leaf extracts have high antioxidant activity.
It is used in treatment of hyperthyroidism and Grave's disease.
Aromatherapy makes use of oils extracted from leaves of lemon balm.
Regular consumption of tea steeped with lemon balm leaves can reduce oxidative stress.
Culinary Uses of Lemon Balm Leaf
The herb is a common flavoring in ice creams, iced teas, and herbal teas. They are often used in combination with other herbs like spearmint. Candies, fruit dishes are paired with lemon balm leaf. Lemon balm pesto has these herbal leaves as the main ingredient. They are good for flavoring fish dishes. They can be added to sausages as a preservative, much healthier than the BHA that is used currently.
Lemon balm leaf benefits are many and these can be easily grown in your kitchen garden.
Image credit: zweberfarms.wordpress.com
Lemon Balm Leaf Benefits