Turmeric Leaf Benefits

10 Aug 2011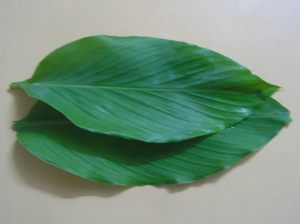 Turmeric leaf is used in Southern Asia to prepare special dishes, native to the region. Most of us would have used turmeric in the powder form, but turmeric leaves can also be used for culinary purposes. Leaves are cut from freshly grown turmeric in the area. Turmeric leaves have medicinal value too like the root and its powdered form. Turmeric is a natural antiseptic and its leaves are considered to be auspicious in many communities of Southern Asia. Read on for turmeric leaf benefits…
Turmeric Leaf Health Benefits
Turmeric leaf is beneficial for the liver. The extract of the leaves and rhizome can increase bile flow and offer protection for gallbladder.
It is a potent antioxidant and boosts immunity.
The leaf extracts have anti cancer properties. Significant amount of the spice has shown to inhibit division of leukemia cells in children.
The spice provides protection from damage caused due to intake of junk food, processed foods, and cigarette smoke.
It is an excellent home remedy for coughs and colds.
It is good for skin tone and health.
Culinary Uses of Turmeric Leaf
Turmeric grows in the wild in parts of South and Southeast Asia. It is an integral part of India, Thai and Persian cuisines.
Turmeric leaves are used for Minangese in Indonesia.
In Sumatra they are used for Padangese.
In Maharashtra, western India, cooked food is wrapped in turmeric leaves. The leaves impart a distinct flavor to the food it wraps.
In states of Karnataka and Goa, India, the plant leaves of turmeric are used in preparation of special sweet meats, namely the patoleo. The leaves are layered with rice flour, coconut jiggery mixture and then steamed in copper steamer.
Turmeric leaf benefits do not end here. This is a very versatile herb and the broad, fresh leaves can be used in a myriad of ways.
Image credit: cuisineindia.wordpress.com
Turmeric Leaf Benefits