How to Ship Cookies

15 Jul 2011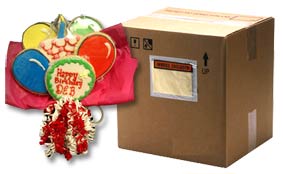 If you are looking for ways on How To Ship Cookies, so that they reach the destination fresh and undamaged, just like you prepared them or bought them, here is a step by step procedure and some useful tips that will help you ship cookies to your loved ones anywhere in the world.
Be it crisp cookies, frosted Christmas ones or fancy ones with appendages and arms, be it any size or shape, if you want to ship the cookies, without having them reach as crumbs, here is what you will need to do.
Tools Required:
Outer box - A USPS Priority shipping box
Inner packing - like plastic bags and ties, parchment, plastic foil or inner box etc.
Packing material - like bubble wrap, packing popcorn, tissues, newspapers etc.
Permanent black marker
Instructions on how to ship:
To ship cookies, choose a USPS Flat rate priority shipping box which you can get from the post office or Courier Company. It looks like a shoe box and u can easily pack 4 to 5 dozen cookies into it. If not a USPS flat use any box which is sturdy, heavy and of appropriate size allowing 2-inches for packaging material.
Carefully wrap your cookies. You can wrap them in plastic wrap, foil, parchment, wax paper, or plastic bags, individually in plastic bags or wrap two back to back tying the bag with a twister or arrange them in a box separating them with butter paper. The best method will depend on what kind of cookies is being sent and chose the best way to keep them fresh.
Pack your box with bubble wrap, packaging popcorn or any material to fill up the spaces between the cookies and the outer box. Without proper inner cushioning you can not ship your cookies in one piece. The best way if to find an inner box and then pack the spaces between the inner and outer box with bubble wrap or any other cushioning. Close the box and shake it to know if the cushioning is enough. If you feel items shifting, add more packing.
Once satisfied, seal the box – When the inner packing is done, put your note or greeting and close the shipping box. Seal it up with a 2-inch wide clear or brown packing, paper or strapping tapes. Don't use string, twine, masking or cellophane tapes. Ensure all seams are taped and reinforced. Don't cover the USPS logo or seals.
Label and address the box – Use a black marker to write or print/type the delivery address parallel to the longest side of the package. Mark Box to Encourage Careful Handling with words like "perishable" "breakable" "this side up". Cover address with clear, heavy packing tape.
Our expert advice on how to pack and ship cookies will guarantee your cookies arrive intact.
Photo Courtesy - cakecentral.com
How To Ship Cookies