Oregano Facts - To Eat Or Not To Eat

1 Jul 2011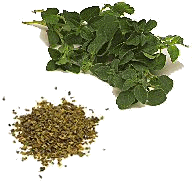 My romance with Oregano dates back to the days when I was introduced to Italian cuisine. Be it a pizza or pasta they are just so incomplete without the delightful herb. Along with being immensely flavorful, there are many other Oregano Facts- to eat or not to eat that are sure to surprise you. Read and discover them.
Oregano, one of the most popular herbs in the world is more flavorful in dried form vis-à-vis the fresh leaves. The flavor blends really well with spicy food, which makes it very popular in Mediterranean, Latin American, Spanish, and Turkish cuisine too.
The exotic flavor of the herb adds a little something to every dish it is sprinkled on. And more so, it has a lot of nutritional values too. Here is a look at the health benefits of this oregano…
Oregano Health Benefit Facts
1 Oregano is a rich source of anti-oxidants which helps to counter free radicals in the body.
2 Oregano is also used to cure respiratory and stomach ailments.
3 The herb is also packed with antiseptic properties.
4 Another Oregano fact is that it is a rich source of fibers which are really essential for the digestive system.
5 The herb is also known for its mineral content. It contains iron, potassium, and calcium, which are essential for a healthy body.
The Word Of Caution
The aromatic herb Oregano is loaded with benefits and is not really known to cause any side effects. However, there might be allergic reactions in rare cases.
Now since you are aware of the benefits of this aromatic plant, final verdict – go ahead eat oregano to your heart's content!
Image Courtesy: encognitive.com 
Oregano Facts - To Eat Or Not To Eat