Side Effects Of Peanut

13 May 2011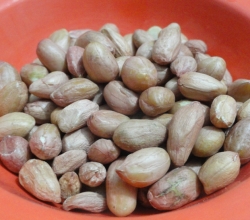 Side effects of peanut are most often discussed because of the peanut allergies associated with it. Else, the crunchy nut is very tasty and healthy, enriching the body with several nutrients. It is also used in preparing several delicious cuisine so it becomes important to know any of the dangers associated with eating peanuts.
Peanut Allergies
Many individuals are found hypersensitive to peanut. They often develop several allergic reactions not only after eating peanuts but even after touching them. The allergies may appear in the following forms.
Itchiness in the mouth
Swelling of mouth, throat and face
Hives
Stomach upset
In extreme cases, peanut allergies may also result into following serious effects.
Troubled breathing
Asthma attack
Anaphylactic shock
All these reactions if not treated on time can turn fatal, so one should seek immediate medical attention for peanut allergies.
Source OF Aflatoxin
Peanut is one of the most common food sources on which aflatoxin producing molds can grow easily. Aflatoxin produced by such molds is cancerous in nature. Its effect has been studied on animals and the researchers claim that consumption of contaminated peanut may cause cancer even in humans though in long course of time.
Who Should Avoid The Intake Of Peanut? 
In addition to the above ill effects, individuals suffering from following diseases should avoid the intake of peanut.
These were some of the side effects of peanut which often is restricted to certain individuals. One should remain cautious to remain protected from any of the health hazards associated with peanuts.
Image Credit: ifood.tv
Side Effects Of Peanut