Junk Food World Records !
13 Nov 2008
Junk Food World Records
Worlds Largest Fish Taco To Benefit Reef Conservation
Small taco stand in Costa Rica trying to make a big difference
On Saturday August 9th, 2008 Bubba's Tacos in Jaco Beach Costa Rica made the World's Largest Fish Taco.
The grilled mahi mahi fish taco was an estimated 20 feet long and included cheese, cole slaw and tomatoes with jalapeños, purple onions, lime wedges and hot sauce on the side.
Bubba's has been cranking out the best fish tacos in Costa Rica for more than 3 years and is asking customers to help sponsor the Worlds Largest Fish Taco with a minimum $5 donation.
100% of the money raised will go to establish a reef conservation project for the local high school and junior high school science classes. The local Jaco schools will work with www.reefball.org on the reef project. The mission of www.reefball.org is to rehabilitate the world's ocean-reef ecosystems and to protect the natural reef systems using artificial reef technologies. Reef Balls are artificial reef modules placed in the ocean to form reef habitat.
The Worlds Largest Fish Tacos event will be submitted to Guinness Book of world records. If you would like more information or would like to help sponsor part of the Worlds Largest Fish Taco to benefit reef conservation please contact Bubba at 2643-2898 in Costa Rica or send an email to fishreportcr@yahoo.com.
www.Reefball.org has over ½ million Reef balls in 59 countries around the world. Their projects include designed artificial reefs, ground breaking coral propagation and planting systems, estuary restoration, red mangrove plantings, oyster reef restoration, erosion control (often beach erosion), and expert collaboration on a variety of oceanic issues.
Domino's Pizza Crowns 'World's Fastest Pizza Maker'
Dennis Tran celebrates

his third consecutive victory as World's

Fastest Pizza Maker
Amidst pounding thunder sticks and cheering spectators, Domino's Pizza  named Silver Springs, Md. resident, Dennis Tran, the 2008 World's Fastest Pizza Maker. Tran, an executive vice president of operations for Domino's Pizza franchise, Team Washington, made three large pizzas in an impressive 46.4 seconds. That's making three pizzas in just over 15 seconds each! Tran won $5,000 in prize money, a trophy and the coveted title presented by Domino's Chairman and CEO David A. Brandon.
"Taking second place was not an option," said Tran. "This competition brings out my competitive nature. I brought speed and confidence to the table to defend my title. I came here to take first place, and I did."
The finalists represented Domino's Pizza stores from around the world, as far away as India. They had to hand-stretch fresh dough, pizza sauce and top three large pizzas - one pepperoni, one mushroom and one cheese - as quickly as possible. While speed was important, it was only part of the recipe. Quality was scrutinized as two judges highly qualified in Domino's standard pizza-making practices inspected the stretching of the dough, application of the sauce and portioning of toppings during the competition. If the pizza was not perfect, it was returned to the competitor who remade the entire pizza, while still being timed.
Tran has been a Domino's team member for 18 years. A returning champion, Tran won the 2006 World's Fastest Pizza Maker title with a time of 55 seconds and the 2007 title with a time of 49.1 seconds. His 2008 time of 46.4 seconds sets a new world record for Domino's Pizza.
Domino's began the "World's Fastest Pizza Maker" competition in 1982 to honor pizza makers who best exemplify the company's philosophy of keeping efficiency in the store to allow sufficient time for safe, timely pizza delivery.
Runners up included Pali Grewal from England, who took second place with a time of 47.9 seconds and Emmanuell Dicks from North Old Tow, Va., who took third place with a time of 49.1 seconds.
The "World's Fastest Pizza Maker" competition was held at the Towsley Auditorium on the campus of Washtenaw Community College in Ann Arbor, Mich.
Founded in 1960, Domino's Pizza is the recognized world leader in pizza delivery. Domino's operates a network of 8,641 franchised and Company-owned stores in the United States and more than 55 countries. The Domino's Pizza brand had global retail sales of over $5.4 billion in 2007, comprised of $3.2 billion domestically and $2.2 billion internationally.

For more information, visit http://www.dominos.com .
World's Largest Popcorn Ball Unveiled
The Popcorn Factory Celebrates National Popcorn Month in a Gargantuan Way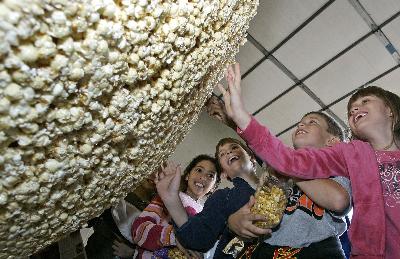 How befitting that October, the month that wraps up with Halloween snacks, is also National Popcorn Month, celebrating the 17 billion quarts of popcorn that Americans consume each year. Today, The Popcorn Factory is celebrating in a record-setting fashion with the unveiling of the World's Largest Popcorn Ball, which is almost ten percent larger than the largest popcorn ball currently on record.
In addition to the creation of this record-setting popcorn ball, The Popcorn Factory also is donating truckloads of popcorn treats to America's Second Harvest, the nation's food bank network, in locations across the country.
"Popcorn is relatively healthy and very fun snack for all ages," said Cheryl Zatz, vice president of marketing. "In celebration of National Popcorn Month, The Popcorn Factory is pleased to distribute popcorn treats, including its new, exceptionally delicious popcorn balls, to needy families in time for the holidays," she said.
The gargantuan, edible sphere is a whopping eight feet in diameter, approximately 24.5 feet in circumference and weighs in at 3,415 pounds. To put it in perspective, the record-setting ball is almost 50,000 times larger than the normal popcorn balls distributed for retail consumption. The giant popcorn ball also is a celebration of the new proprietary recipe for the in-house production of popcorn balls, reminiscent of the taste associated with Grandma's kitchen.
According to the National Popcorn Board, Americans consume 54 quarts of popcorn per man, woman and child each year. Approximately 70 percent of that is consumed inside the home and the peak period for popcorn sales for home consumption is the fall.
The Popcorn Factory is located in Lake Forest, Illinois and pops approximately 1 million pounds of popcorn each year. It packages approximately 60,000 cans of popcorn per week, the most popular being the three-way tin consisting of cheese, caramel and butter popcorn. For more information on the wide variety of popcorn treats available, including the variety of original flavors created each month, please visit www.thepopcornfactory.com.
Guinness World Records Declares 67-foot

World's Largest Gingerbread House
Gingerbread Artist Roger Pelcher and Guinness World Records Representative

Stuart Claxton Make the Official Measurement
Guinness World Records today announced that Mall of America is home to the World's Largest Gingerbread House. Following an official measurement of the more than 67-foot tall gingerbread creation, Guinness World Records recognized gingerbread artist Roger Pelcher, the world record holder for the largest gingerbread house. This achievement surpasses Pelcher's previous record of 57 feet.
Pelcher and his team of gingerbread experts logged an estimated 1,700 hours in nine days to create the 1,496-square-foot magical wonder. The house consists of 14,250 pounds of gingerbread, 4,750 pounds of icing and more than one ton of candy embellishments. It also features a magical gingerbread factory complete with animated elves.
KKE Architects and PCL Construction Services, Inc. served as major sponsors of the construction, donating time and resources to the completion of the World's Largest Gingerbread House, and the gingerbread and icing for the house were donated by Wilton Enterprises. Donated embellishments included 1,800 Hershey's chocolate bars, 1,200 feet of Twizzlers, 100 pounds of large-sized Tootsie Rolls, 300 pounds of large-sized DOTS, and 100 pounds each of Brach's Star Brites Mix, Holiday Mix, Crimp Ribbon, Christmas Spicettes and Christmas Nougats.
Mall of America is the nation's largest retail and entertainment complex. The 4.2-million-square-foot complex is home to more than 520 world-class shops; The Park at MOA, the nation's largest indoor family amusement park; Underwater Adventures, a 1.2-million-gallon walk-though aquarium; a 14- screen movie theater and more. The Mall opened in August of 1992 and is located in Bloomington, Minn., just minutes from downtown Minneapolis and St. Paul. For more information visit http://www.mallofamerica.com  .
Booster Juice Sets New World Record

for the Largest Smoothie
Frank and Simon Voisin, Booster Juice business partners mix up the

World's Largest Smoothie after 3.5 hours of preparation
KITCHENER, ONTARIO - After 7 blenders, 3.5 hours of blending and over 195 gallons of smoothie, a Booster Juice store in Kitchener, Canada broke the current record for the World's Largest Smoothie. To break this record Booster Juice had to surpass the previous record of 333 litres or 88 gallons of delicious smoothie. City firefighters were on site to help in the attempt to enter the Guinness World Records by making the world's largest smoothie. Best of all, Booster Juice raised $1,000 for the Canadian Cancer Society by selling the world's largest smoothie in 24 oz cups after the record breaking event.
"As always we are excited to have set yet another benchmark in the Juice and Smoothie Bar industry and support such a great charitable organization," states Dale Wishewan, Booster Juice Co Founder and President of Booster Juice Canada. The event took place in the Sunrise Shopping Centre in Kitchener, Ontario.
For more information visit the Booster Juice website at http://www.boosterjuice.com/
Woman Eats 26

Grilled Cheese Sandwiches
Sonya Thomas, who is known as the 'Black Widow' on the competitive circuit, ate 26 grilled cheese sandwiches in 10 minutes
NEW YORK - On February 1, 2006, a 100-pound woman ate 26 grilled cheese sandwiches in 10 minutes at a New York restaurant, winning the World Grilled Cheese Eating Championship.  It was a close win. Her nearest competitor, Joey Chestnut, ate 25 1/2 sandwiches.
Sonya Thomas won $8,000 for the contest at the Planet Hollywood restaurant in Times Square but said she was disappointed in her performance.  "I could have done better," she said, adding that she was aiming for 30 sandwiches.
Thomas, of Alexandria, Va., said she had to catch a train shortly after the contest to make her shift at a Burger King on Andrews Air Force Base in Maryland, where she is a manager.
She said she has a naturally big stomach capacity and heavily soaked her sandwiches in water to make them easier to swallow. She said to train she drinks large amounts of water to expand her stomach capacity and practices relaxing her throat. Thomas, whose normal weight is about 100 pounds, estimated she gained 10 pounds during Wednesday's contest.
On the eating contest circuit, Thomas is known as the "Black Widow," apparently because she has defeated so many larger men.
She holds numerous world eating records, including 46 dozen oysters in 10 minutes, 11 pounds of cheesecake in 9 minutes, 48 chicken tacos in 11 minutes, 37 hot dogs and buns in 12 minutes and 56 hamburgers in 8 minutes.
The event was organized by http://www.GoldenPalace.com, an Internet casino and poker room.
For more information on Sonya Thomas' world records, visit her website at http://sonyatheblackwidow.com
World's Largest Wedding Cake: 15,032 Pounds
Mohegan Sun Casino Attempts to Shatter the World Record in Guinness Book of World Records
Today, at the New England Bridal Showcase, Mohegan Sun unveiled what it hopes will be the world's largest wedding cake. Measuring 17-feet tall and weighing 15,032 pounds, the seven-tiered cake is almost three-times the weight of the current record in the Guinness Book of World Records for the world's largest wedding cake.
The Mohegan Sun wedding cake is vanilla flavored and decorated with bows and hearts. Ingredients include: 10,000 pounds of pound cake batter and 4,810 pounds of creamy frosting with a taste of vanilla and almond. Comparatively speaking, the cake weighs more than five Volkswagen Beetles and can feed up to 59,000 people.
Chef Lynn Mansel, Mohegan Sun's Executive Pastry Chef and resident "Michelangelo of batters and buttercream," began creating the cake on Sunday, February 1st in the Uncas Ballroom. Along with his team of 57 chefs and pastry artisans, Chef Mansel baked 700, 18x24 inch vanilla sheet cakes. Then, using frosting as cement, they created 200, five- and six-layered bricks, which were put together to form the tiers of the wedding cake. Steel discs were used as cake separators and two fork-lifts helped raise each tier as the wedding cake took shape.
The current record in the Guiness Book of World Records is 5,334-pounds, and was unveiled at Universal Studios, Orlando, Florida on June 12, 2003. The five-tiered cake, which measured 22-feet tall, celebrated the wedding of the animated characters Shrek and Fiona -- who were the main characters in the original Shrek movie -- and the opening of the new Shrek 4-D ride at Universal Studios.
Mohegan Sun, owned by the Mohegan Tribe, is one of the largest, most distinctive and spectacular entertainment, gaming, shopping and meeting destinations in the United States. What began with the Casino of the Earth in 1996 has evolved into a legendary destination that now includes: the Casino of the Sky and over 300,000 square feet of total gaming space plus a 34-story luxury hotel, featuring 1,200 guestrooms and suites, premier meeting and convention space and a world-class spa.

More information is available by calling 1-888-226-7711 or visiting www.mohegansun.com
World's Largest  Burger Weighs Nine Pounds!
No one has ever finished

this $23.95 whopper
Where's the beef?  As you can see, it's at Denny's Beer Barrel Pub in Clearfield, Pennsylvania. Denny's is the home of the world's largest hamburger: a NINE POUND meat monster!
This humongous burger, listed on the pub's menu as Ye Olde 96er, sells for $23.95 and contains a full six pounds of meat plus three pounds of trimmings: two whole tomatoes, a half-head of lettuce, twelve slices of American cheese, a full cup of peppers, two whole onions, and "a river of mayonnaise, ketchup, and mustard" according to pub owner Dennis Liegey.
Not that hungry?  Denny's offers two- and three-pound burgers for those of us with slightly smaller appetites. Denny's Beer Barrel Pub is located at 1423 Dorey St., Clearfield, Pennsylvania. For more information, call (814) 765-7190 or visit their web site at www.dennysbeerbarrelpub.com .
World's Largest Fish and Chips
Icelandic USA, Inc., set the Guinness Book of World Records "World's Largest Fish and Chips Serving" of 77.75 pounds - 34.21 pounds for the Cod Fillet (battered and fried) and 43.54 lbs of chips. (L-R) President and CEO of Icelandic USA Magnus Gustafsson, Black Rose owner Michael Glynn, Icelandic USA Director of Technical Services Ronald Sasiela, and Iceland Minister of Fisheries Arni M. Mathiesen.
Vienna Beef Makes World's Longest Hot Dog: 16 Feet, 1 Inch
To celebrate National Hot Dog Month and the Fourth of July, the Chicago-based Vienna Beef assembled the world's longest hot dog, measuring 16 feet, 1 inch and topping the previous record of 15 feet, 3 inches recorded in Pennsylvania in 2001. The giant feat took place near Buckingham Fountain during the annual Taste of Chicago food festival.
Carvel Builds World's Largest Ice Cream Cake
Carvel builds the world's largest ice cream cake in New York City's Union Square Park in celebration of its 70th birthday. At 12,096 pounds the cake broke all previous Guinness World records. Fudgie the Whale, one of Carvel's mascots, was on hand to help celebrate and pass out ice cream to the eager and hungry onlookers. Ice cream was donated to City Harvest afterwards.
World's Record Chocolate Heart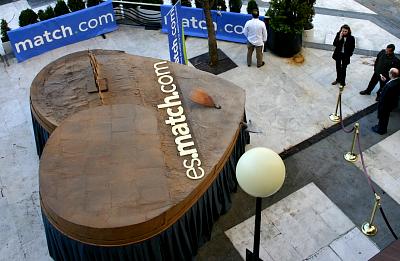 Online dating site Match.com unveiled a 7-metric-ton chocolate heart in Madrid on Friday, Feb. 13, 2004 for Valentine's Day, breaking the Guinness World Record for largest chocolate heart structure by weight. Designed by artist Lluis Morera, the chocolate heart was produced by Chocovic, the largest chocolate producer in Spain. This is the second Guinness World Record for Match.com, which holds the current record for world's largest online dating site.
Longest Pizza
A Chinese chef prepares a 20-metre pizza in Shanghai, said to be the longest pizza, as part of hotel promotion to attract more guests.
Cadbury Adams and Bubblicious Help Ozzie Smith Set World Record
Baseball legend Ozzie Smith helps set World Record for "most bubbles ever blown at one time".
Hundreds of Little League players and fans joined Major League Hall of Famer Ozzie Smith (center) to set the world record for the most bubble gum bubbles blown at one time.
Over 100 fans and 300 pieces of Bubblicious gum made the record possible.
World's Biggest Cookie to Fund American Folk Art Museum
Cookie Will Be Over 100 Feet In Diameter and Contain 6,000 Pounds of Chocolate Chips
Immaculate Baking Company, known for making great-tasting cookies with imaginative flavors and funky packaging, has announced the imminent creation of the world's biggest cookie. The all-natural chocolate-chip cookie will be larger than a basketball court, measuring over 100 feet in diameter. It will be baked on May 17, 2003, in Hendersonville, North Carolina, at the future site of the Folk Art Museum next to Immaculate Baking Company's cookie factory. The event will benefit the Folk Artist's Foundation (FAF) and construction of its Folk Art Museum.
This is One Big Cookie!
● Size: 100 feet in diameter = basketball court; 1/3 football field; the length of a Blue Whale or Boeing 737
● Weight: 40,000 pounds = one F-15B aircraft; four elephants; seven full-sized pickup trucks; three tyrannosaurus rex dinosaurs.
● 6,000 pounds of semi-sweet chocolate chunks (over 13,000,000)
● 12,200 pounds of unbleached flour
● 6,525 pounds of unsalted butter
● 5,000 pounds of granulated sugar
● 3,370 pounds of dark brown sugar
● 184 pounds of salt
● 79 pounds of baking soda
● 30,000 whole eggs
● 10 gallons of pure vanilla
"There's no question that this cookie will taste great," says Scott Blackwell, Immaculate Baking Co.'s president and CEO. "But what's more important is that it

will accomplish two critical missions: It will bring the world record back to the US - which should be the case when it comes to chocolate-chip cookies - and it will raise the initial funds to create the Folk Art Museum."
Blackwell, whose personal collection of over 600 works of folk art will form the museum's initial collection, has been an advocate for folk art and folk artists for over

a decade. Immaculate Baking Company features folk art on its award-winning packaging and maintains strong relationships with numerous folk artists regionally

and nationally.
The world's biggest cookie will be baked in a structureless oven, utilizing convective heat to bake the cookie in approximately five to six hours. This one-of-a-kind, 7,850 square foot oven is being designed specially for the big cookie. The cookie will be cut and sold, and 100% of the proceeds will be donated to the Museum Fund for the Folk Artist's Foundation.
The Folk Artist's Foundation provides encouragement, support (financial and other) and exposure for artists working in the folk-art tradition. Folk-art is generally defined as art created by artists who lack formal training. The foundation's efforts are based on the recognition of - and profound respect for - the inherent talent and determination of the self-taught artist, as well as appreciation for the heartfelt beauty, simplicity and integrity of this magnificent art form. The Folk Artist's Museum will be built next to Immaculate Baking Company's cookie factory in Hendersonville, NC. The initial collection will include works by R. A. Miller, Mose Tolliver, and Leonard Jones.
Since starting in 1995 with two original cookie flavors, Immaculate Baking Company has rapidly expanded to produce

not only its award-winning, unique cookies, but also the Mojo (chocolate-covered, bite-sized pieces of handmade biscotti), various gift sets and handmade biscotti. For more information, please visit www.immaculatebaking.com
Marshall Field's Sets Record for Largest Box of Chocolates
The history-making 15' x 7' x 2' Frango box weighs 3,226 pounds and is on display at Chicago's Field Museum
Marshall Field's officially shattered the Guinness World Record for the Largest Box of Chocolates today at The Field Museum in Chicago. The oversized Frango Win A Mint box contained 2,002 one-pound boxes of Frango Mint chocolates.
The Frango box was weighed on a commercial scale and authenticated by Stuart Claxton, a Guinness World Records researcher; Dennis O'Brien, a CPA and partner at Pasquesi Sheppard in Chicago; and Francis Patch, Director of Food Protection at the Chicago Department of Health. With the help of The Field Museum, currently running the Chocolate exhibition, Marshall Field's will have a chance to be featured in the Guinness Book of World Records.
"On behalf of Guinness World Records, I am pleased to announce that Marshall Field's 2,002 pound Frango Win A Mint chocolate box has shattered the record for the World's Largest Box of Chocolates," says Stuart Claxton, Guinness World Records researcher. (Master Foods Middle East for the Dubai Shopping Festival set the prior world record, of 1,888 pounds, in March 2001.)
The one-ton box of endorphins was unveiled in a ceremony complete with the official signing of a giant Guinness World Records certificate. The World's Largest Box of Chocolates kicks off the second year of the Marshall Field's Frango Win A Mint game, which runs through December 24. The 15' x 7' x 2' record-setting box is an exact replica of the Frango Win A Mint Box. It will be on display at The Field Museum until Sunday, November 17. Starting November 18, the huge box will be on display at the Marshall Field's State Street store in Chicago. The 2,002 pounds of Frango Mint chocolates will be donated to Chicago area charities and non-profit organizations through the Chicago Cares organization.
About the Frango Win A Mint Game: Now through December 24, Marshall Field's guests have the chance to find one of four instant-win game pieces in specially marked one-pound boxes of Frango Mints worth at least $10,000. A special drawing will award one of these four winners the grand prize of $100,000. The other three will receive prizes of $10,000 each. One thousand guests could find a $50 Marshall Field's Gift Card in their box of mints, and five thousand could find $10 Marshall Field's Gift Cards.  For more information, visit http://www.marshallfields.com
Carvel Breaks Guinness World Record for Largest Ice Cream Scoop Pyramid
New Record Shatters Previous By 794 Scoops
Carvel Corporation, the nation's first retail ice cream chain, today broke the Guinness World Record for the largest ice cream pyramid, live on the CBS Early Show. Built in 58 minutes, the pyramid was comprised of 3,894 scoops of Carvel's creamy vanilla ice cream, totaling 22 layers and weighing in at 1,005 pounds. 278 gallons of ice cream were used to build the 53 inches tall pyramid. The 3,894 scoops totaled 778,800 calories, 38,940 fat grams, and exceeded the recommended daily calcium allowance by 58,305%. The towering structure was built with the help of 28 Carvel employees alternating between the jobs of scooper, placer and runner.
"Setting the new world record was an incredible opportunity for us to share the Carvel experience," said Steve Romaniello, president of Carvel. "Thanks to our dedicated employees and franchisees, our creamy, crunchy product has been an industry favorite for more than 68 years."
The last scoop to set the new world record was placed by Boca Raton franchisee Chuck Keller, son of longtime Carvel employee Stewart Keller who recently passed away.
The nation's first retail ice cream franchise, Carvel has become one of the best-loved and most recognized names in its industry. The 68-year old company is the leading manufacturer of uniquely shaped ice cream cakes, including its signature Fudgie the Whale and Cookie Puss cakes, as well as a leading provider of premium soft serve and hand dipped ice cream products. Carvel currently operates more than 400 franchised and food service locations and sells it famous ice cream cakes through over 5,000 supermarkets outlets. Based in Farmington, CT with its franchise headquarters in Atlanta, GA, Carvel reminds you, "Everyday is a good day for ice cream."  Visit the Carvel Website.
Jolly Rancher Proves It's

the 'King of Pops' with Guinness World Record Largest Lollipop
 'World's Largest Lollipop' Unwrapped Along

With New Jolly Rancher Fruit Chew Lollipop

at Taste of Chicago
Jolly Rancher has unveiled the World's Largest Lollipop, certified by Guinness World Records, weighing in at a whopping 4,016 pounds and measures 62.8 inches in diameter (over 5 feet square) and 18.9 inches thick. The Jolly Rancher lollipop, an exact replica of the regular-sized Jolly Rancher cherry lollipop, breaks the previous record by over 1,000 pounds.
Jolly Rancher, a division of Hershey Foods Corporation, created the world's largest lollipop to celebrate the launch of Jolly Rancher's latest pop creation, Jolly Rancher Fruit Chew Lollipops -- the only lollipops that deliver the big, bold flavors of Jolly Rancher with a chewy center.
"Guinness World Records is pleased to certify that Hershey holds the record for the world's largest lollipop," said Stuart Claxton, Research Manager, Guinness World Records. "This was a difficult record to break and is a great achievement by the Hershey team."
Jolly Rancher Fruit Chew Lollipops feature the unique square, flat lollipop shape -- in the bold flavors of watermelon, green apple, cherry and grape. The lollipops are available now in 10 oz. and 6.2 oz. assorted bags and individually.
Hershey Foods Corporation (NYSE: HSY) is the leading North American manufacturer of quality chocolate and non-chocolate confectionery and chocolate-related grocery products.
WORLD'S FASTEST PIZZA MAKER
Domino's Pizza store manager Rene DeGuia, Palm Springs, Calif., made 14 perfect pizzas in 2 minutes and 34 seconds to win the World's Fastest Pizza Maker title and $5,000 in Las Vegas. DeGuia set a new world record, averaging 11 seconds per pie. Seventeen competitors from around the world were judged on speed and quality pizza making.
Jack in the Box Sells 315,360,000 Tacos Per Year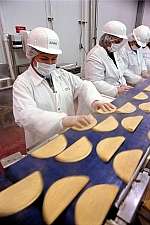 America's passion for Mexican fast-food is leading to a boom in taco sales. Even traditional burgers and fries chains are adding taco fare to their menu boards. Here, workers at a food manufacturing plant in Hutchinson, Kan., inspect and pack tacos destined for Jack in the Box® restaurants, the only major fast-food hamburger chain offering tacos at all its restaurants. Jack in the Box officials say their customers consume 600 tacos every minute, or 315,360,000 tacos a year. (Business Wire photo)
Crazy about Hostess

Cup Cakes
Suzanne Rutland enjoys one of the four Hostess Cup Cakes that she eats daily. During her lifetime, she estimates that she has eaten more than 50,000 Cup Cakes. "Every morning I eat two Hostess Cup Cakes for breakfast with a multivitamin," said Rutland. "I'll have a light lunch and another Cup Cake for an afternoon snack. I eat dinner, but always save room for dessert. I like to end each day with a Cup Cake."
WORLD'S LARGEST MILKSHAKE
The Comfort Diners' Owner Ira Freehof beat the heat and the Guinness Book of World Records when -- in conjunction with Parmalat USA & American Dairy Association -- he set a new record for the WORLD'S LARGEST MILKSHAKE, a 6,000 gallon classic Black & White Shake (the equivalent of 50,000 shakes!), which surpassed the old Guinness record of 4,603.24 gallons.
World's Largest

Bowl of Dip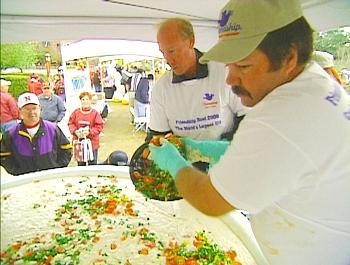 In celebration of collegiate football's season finale, members of Friendship Dairies' Sour Cream to the Extreme Team put final touches on The World's Largest Bowl of Dip to establish a new Guinness World Record.
The salsa-flavored tailgating treat included 2,314.6 pounds of sour cream, tomatoes, onions, bell pepper, jalapeno and cilantro. Armchair epicureans note: the culinary concoction equaled 32,000 servings (with no double dipping).
The previous world record, an 1,807-pound bowl of guacamole, was established March 1999 in Queensland, Australia. (PRNewsFoto)
World's First Pizza-Proof Lipstick
"Cleopastas" demonstrate pizza-proof Max Factor Lipfinity lip color at The Taste of Chicago.
Courtesy: www.junkfoodnews.net
Junk Food World Records !