Side Effects Of Coconut

22 Apr 2011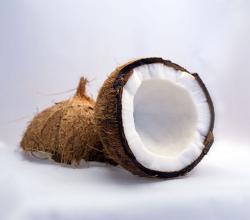 It's difficult to discuss about the side effects of coconut when the tree is commonly referred as Tree of Heaven. But, even coconut is associated with some negative effects which cannot be overlooked. Though rare in occurrence, but coconut which has nutritional as well as health benefits, adversely affect the body if taken in excess amount. So, let's have a look on dangers of coconut so that we can avoid them by its judicious consumption.
Some Side Effects Of Coconut
Increase In Cardiovascular Disorders
Coconut eating is not bad for health but its excess consumption, especially in the form of coconut oil can promote the chances of cardiovascular disorders. Coconut oil is known to be rich in saturated fat which in turn raises the level of LDL or bad cholesterol in the body. According to The American Heart Association, LDL from coconut oil is one of the major factors behind various heart ailments. One should restrict the intake of saturated fats up to 7 percent of daily calorie to protect the heart and remain healthy. So, excess consumption of coconut oil should be avoided.
Coconut Allergies
Allergic reaction is also one of the common side effects of coconut. The allergies are not very common but people sensitive to tree nuts are prone to coconut allergies. Coconut has been classified as tree nuts so if you are allergic to those items, restrict the consumption of coconut. The allergic reactions due to coconut are rare but if any symptoms of allergy prevail for a period of time after consuming coconut, one should consult the health care provider.
Coconut During Pregnancy
Coconut is not harmful during pregnancy and breastfeeding phases, if it is taken in food amount. Furthermore, there is no report of its safe consumption in large amount. So, pregnant and nursing women should only take food amount of coconut to avoid any of its ill effects.
Increase In Weight
One of the dangers of coconut is weight gain which is generally the outcome of fat content in the coconut oil. The fat content of coconut oil has been estimated to add 9 calories per gram. Addition of excess weight is related to several health disorders, so it should be avoided to remain healthy and fit.
In this way, we have found that side effects of coconut are the result of it's over consumption. Thus, it's over eating should be avoided so that we can relish it in different forms. Nonetheless, any of the above mentioned symptoms should not be overlooked and it should be discussed immediately with the doctor.
Image Credit: ifood.tv
Side Effects Of Coconut