How To Assemble A Chafing Dish
29 Mar 2011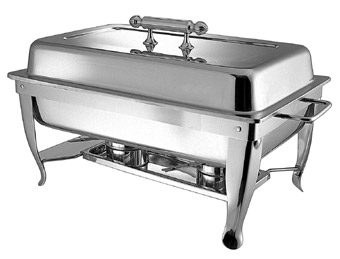 If you often dine at a buffet, you must have noticed the dishes in which the food is served. Well, those dishes are called chaffing dishes and we are here to tell you how to assemble a chaffing dish. Chaffing dishes are massive pans placed on four legs and a hefty lid to keep the food warm.  These dishes are used extensively in catering because they serve multiple purposes at the same time.   
If you have bought a chafing dish then you need to first understand how to assemble it.  To assemble a chafing dish you need to follow the below steps:
Chafing dishes comprise of five parts: the structure with four legs, primary pan, secondary pan, heat cup, and cover.
For assembling a chafing dish place the chafing stand on a plain surface.  It will appear like four legs are joint to a hollow frame.  It has a plate that is connected to the legs and inch above the surface level.  That plate has a cup in the center that is known as the heating cup.
Place the primary pan (i.e. the bigger pan) in that frame.  The edge of the pan should rest at the outline of the frame of the stand.  Fill an inch of that pan with hot water.
Place some camphor in the heat cup and light it to heat the primary pan.
Now place the secondary pan on top of the primary pan.  It should fit within the primary pan and rest an inch above the water that is in the primary pan.
Secure the edges of the pan with aluminium foil by covering each side of the pan with strips of aluminium foil.
The pan is ready to serve the food.
Once you fill the chafing dish with food you can cover it with the lid/cover to keep the food warm.
Do not over fill the heat cup.  Excessive heat will eveporate the water and after some time the food will be cold.  It will also damage the base of the primary pan.
How To Assemble A Chafing Dish