How To Use Pasta Bread Bowl At Gatherings
28 Mar 2011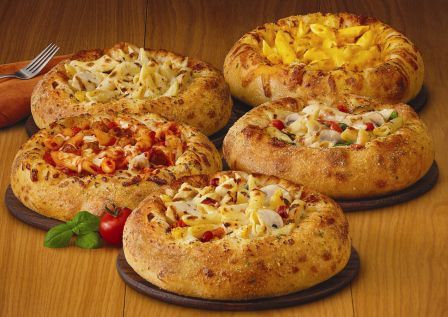 Pasta bread bowl is a fun concept to introduce at gatherings. The fad has caught on even more since Dominos introduced their pasta bowl preparations. So what are the uses of a pasta bread bowl, you may ask? It enhances the decorative value of your dinner table in addition to making the food more inviting.
 The pasta bread bowl is undoubtedly heavy on carbohydrates with the crust as well as the pasta in it. You could modify your recipe to make it more diet friendly by introducing whole grains in it. The yummy fact for the bread bowl is it soaks up sauce and the cheesy topping. You can make your own bread bowl at home. When your pasta bowl is ready with the bread on the outside and the pasta on the inside you could present it in any number of ways.
Pasta bowl- The bowl could be used for presenting chicken Carbonara, Italian sausage, marinara, chicken Alfredo, pasta primavera any such filling.
Salad with pasta-can be made separately and tucked into the bread bowl. Add those greens along with cooked pasta, sprinkle garnishing and dribble some olive oil over it for an awesome personalized salad bowl.
Spaghetti with meatballs-This is another delightful preparation for the pasta bowl. Make your spaghetti with meat sauce and meatballs in it. Scoop it into the prepared pasta bowls.  Now the bowl can be eaten after the spaghetti is done. It would have absorbed the marinara sauce with meat flavor in it.
Mac and cheese-Mac and cheese is a kids favorite. Filling it in a pasta bowl is a wonderful way to get them to eat the bread too after it soaks all the cheese. Watch them gorge on it. Kids will love this special dish since they get to eat the bowl too, which would have absorbed the cheese, sauce and has the pasta in it.
  You can try different pastas and different combinations with meat or vegetables. You could use multigrain pasta with whole wheat to make it healthier with more fiber and nutrients in it. This might be one way to get the kids eat veggies to. Make smaller bowls for kids to suit their appetite.
 Use these pasta bread bowls at gatherings and watch how the guests make a beeline for it. It is not only wholesome food but also delightful in its aesthetic look.
Image Credit: consumerist.com
How To Use Pasta Bread Bowl At Gatherings