How To Melt Cheese For Nachos?

25 Mar 2011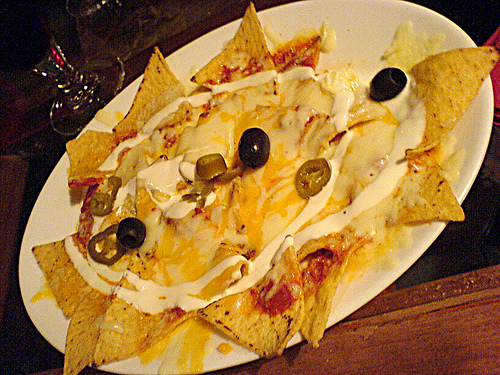 Nachos cheese is known as scrumptious appetizer and is an endearing American snacks. Nachos are typically enjoyed with melted cheese during festivals, carnivals, gala event, and in the party of food connoisseurs. The popularity of nachos is obvious in west, as "International Nachos Day" celebrations done on October 21st every year. When your mind craves for something spicy, tangy, and saucy snacks, the instant click of cheesy nachos sweeps the mind. People like to have nachos in different flavors and is one of the most cooked up snacks in kitchens of America. One of the amazing flavors adored by people of all ages is the melted cheese nachos. Some of the specialties you can try out are vintage nachos with Cheddar cheese, fried corn tortillas tagged with melted cheese, or braised nachos with tangy jalapenos. Be it any of the nachos recipes, cheese remains the most sought after component of nachos. The process involved in melting cheese for nachos are many with minor variations. Let us dig more into various ways of melting cheese for nachos.
Melting Cheese for Nachos
Melting cheese for nachos is an age old tradition in Mexico, and Greece. Some of the ways used in melting cheese for nachos are highlighted for your information.
You can use pan or saucepan to melt cheese. In such case, put sauce pan on stove or cook top, and let it stay on it for 2-3 mins. Grate some soft cheddar cheese, or add shredded cuttings of cheese to it. Add half cup of warm milk to it to help it dissolve easily. Simmer it for 15 mins or so. Add some pepper, black salt, and put nachos to it. Let it evaporate. Serve it hot to your kids and be ready for more to be asked!
Another easy way is to use microwave oven for melting cheese. You can attempt it in one single go. Add nachos, shredded cheese, some jalapenos, red onions, and tomatoes, with salt in microwave safe container. Put it inside oven for some 2-3 mins. Keep stirring in between to prevent sticky consistency. Your nacho cheese is ready to tantalize you.
This was an overview on how to melt cheese for nachos. You can add more veggies and other victuals to make nachos more appealing.
Image credit : ifood.tv 
How To Melt Cheese For Nachos?