How To Use Over Ripe Bananas

24 Mar 2011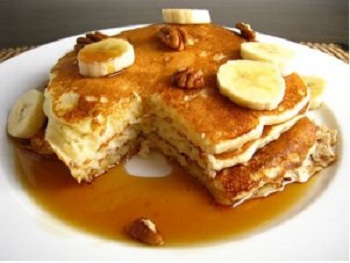 You may have come across over ripe bananas quite a few times, but have you ever thought if you can use over ripe bananas. You don't have to throw them way if they become over ripe, instead try some creative way to use over ripe bananas. Take a look at the following ideas for using over ripe bananas.
A Quick Breakfast Option
Smash the over ripe bananas and use them with your hot oatmeal and milk for a sumptuously rich and healthy breakfast. Bananas contain fiber and protein, and hence it will keep you away from those hungry pangs during the day.
Delicious Banana Muffins
You can use over ripe bananas to bake delicious muffins. The over ripe banana pieces adhere to each other well and blend perfectly with the batter and render a great taste.
Banana Pancake
Include mashed over ripe banana in your pancake batter. You can even prepare a spreading of mashed over ripe bananas and whipped cream and top the freshly made pancakes with this spread.
Yummy Banana Smoothie
You can use over ripe bananas to prepare a healthy smoothie by blending with low fat milk or sot milk, unsweetened yogurt, cinnamon powder, vanilla essence and honey. If you don't prefer honey, use some other sweetener. You can even try adding cocoa powder to this banana smoothie.
Chocolate Bananas
Slice over ripe bananas lengthwise and allow them to freeze by putting a stick in them. Take out and then pour freshly melted chocolate over the slices and sprinkle powdered sugar on the top. Refreeze them. Serve as cold chocolate bananas.
Fried  Bananas
Slice the over ripe bananas lengthwise. In a batter prepared using refined flour, sugar, water and vanilla essence, dip the slices. Deep fry in olive oil till the slices turn golden brown. Serve hot with maple syrup. You can even bake this mixture in a microwave oven as a healthier option.
Use Over Ripe Bananas In Various Desserts
Include over ripe bananas to prepare banana cream pie, banana cake, banana pudding, banana foster, etc.
These are few easy ideas where you can use over ripe bananas without wasting them.
Image Credit: thefritic.wordpress.com
How To Use Over Ripe Bananas