Top 10 Whole Fish Recipes

23 Mar 2011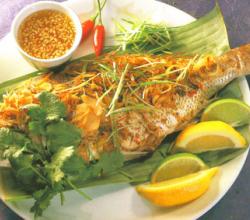 I have put together 10 whole fish recipe ideas, which I feel tops the dishes made using fish. Fish, as you know, is one of the healthy and tasty foods available and what better way to do justice to fish than using some whole fish recipes for a sumptuous dinner? Cooking a fish whole wastes less meat and ensures good health and a beautiful dinner table.
Ten whole fish recipe ideas:
Butterfly or kite a fish: Through butterflying or kiting a fish, you are removing the back bone of a fish for the purpose of stuffing and baking it. Kiting makes the fish ready for smoking. You can make Scottish delicacy finan hadie with haddock smoked this way.
Fried fish with Vietnamese dipping sauce: Among many whole fish recipes, frying whole fish the Asian way is one to reckon with to give you an edge as a host when guests are around the dinner table. Frying the whole fish is an Asian specialty. Fish fried the Asian way is best had with an Asian sauce like soy-lime Vietnamese dipping sauce.
Oven-fried fish with salad: Oven-frying is another way to prepare whole fish. Flat fish like a sand dab is best for oven frying. This can be paired up with a summer salad made of fresh tomatoes, avocado, fresh corn and sweet onions.
Pan-dressing: Small fish like sand dab can be pan-dressed by cutting off the head, guts and fins of the flatfish.
Fried fish with aioli sauce: Some fish like whitebait or blue anchovies are best had by frying. It can be served with a garlicky aioli sauce.
Asian style: There are many whole fish recipe ideas in Asian cooking. How about Szechuan-style whole fish recipe with the sweet-and-sour sauce? This recipe is best for fish like rockfish, black seabass, porgies, or pompano.
Baked whole fish: Cod or haddock can be baked for some mouth-watering whole fish recipes. Stuff the fish like you would a Thanksgiving turkey and bake it.
Bake with bacon: Red snapper can be baked with bacon, onions, garlic, tomatoes and white wine. Garnish it with olive oil and parseley is another delicious whole fish recipe idea.
Fish curry: Why not slide away from your usual whole fish recipes and give this an Indian twist? Whip up an Indian curry with whole spices or give it a Thai flavour by cooking it in Thai green curry paste.
Grill it: Grilling a whole fish is one of the best ways to retain the fish's freshness. Bluefish, red drum, large walleyes, trout, salmon snapper, and grouper are some of the best fish for grilling.
 
Image Credit: ifood.tv 
Top 10 Whole Fish Recipes