Which Are The Best Pears For Eating

23 Mar 2011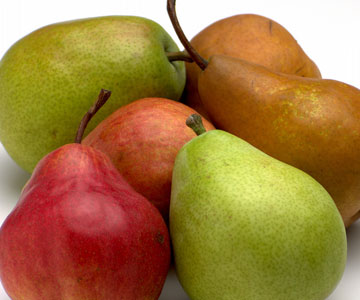 Referred to as "gift of the gods" by Homer in his book The Odyssey, pears have been a popular fruit across the world with evidence suggesting that it was used as a food item in pre-historic times as well. There are many different varieties of pears of which, the best pears for eating raw are few.
In North America pears are grown in Oregon and Washington and there is a different time of harvest for each variety. Depending upon the variety, the pears can be yellow, red, green or brown in color.
Pears are rich in vitamin C, copper, vitamin K and are also a good source of dietary fiber. This juicy and sweet fruit is used in for cooking as well and many a tasty dish is made using pear.  
Of all the varieties available, some of the best pears for eating are—
Asian Pears— These pears are identified by their crunchiness. They are more like apples in crispiness than pears. They are one of the best pears for eating raw. They can be also sliced and added to salads. These pears usually come from the month of August well into winter season.
Comice Pears— This variety of pears have a fruity flavour and aroma and is one of the best pears to eat raw. They are more rounded in shape like apples than the other varieties of pears. The texture of Comice pears is fine and these pears are juicy and sweet. The flesh of these pears is soft but you can cook or bake it with ease without having to worry about the fact that it will get mushy. These pears are available from September through February.
French Butter Pears— This variety of pears have a soft and rich texture and are best pears for eating. They can be either cooked or eaten raw. You can find French Butter pears in the season of fall.
Bartlett Pears—This is another one of the best pears for eating. They are the juiciest of all and have a tender flesh and thin skin. Though they are best eaten raw, they can be easily used for cooking as well. They are available from the months of July through October.
Seckel Pears—This variety of pears are the smallest of all the varieties. In fact they are so small that they can easily fit into the palm of hand. The name of this pear is derived from German language, meaning sugar. They have a thick skin and when ripened can be very sweet. Seckel pears are available from August till December.
Anjou Pears—This variety of pears has a mild flavour and are red or green in color. These pears come from October to May and are good for eating raw.
These are some of the best pears for eating, so take your pick from amongst these and eat your way to good health. 
Image credit-- mydailyfind.com
Which Are The Best Pears For Eating