How To Use An Edible Topiary
17 Mar 2011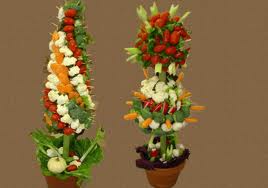 Use an edible topiary to decorate as the centerpiece of your table. Using edible topiary will be a sure shot hit among kids when you are throwing a party. Topiary? Yes, the horticultural practice of clipping live plants to your desired shape. You can adapt it for food and use an edible topiary to pep up your party. Mostly made with candies and fruits, edible topiary can also serve as a perfect gift item.
Here's what you will need for an edible topiary
For the topiary base, you will need Styrofoam base, toothpicks, sketch pad and pencil, fruit / cheese cubes, chocolate truffles and lollipops.
Get your edible topiary ready this way
Visualize the shape of your topiary before you set about making it. It simply makes your job easier by letting you know what you would need to build the topiary. Usually, edible topiaries are simple shapes – often trees.
It's necessary that you have a base for your edible topiary so as to prevent it from falling over. You can buy Styrofoam base at any of the neighbor craft stores.
The next step is to select the items for your edible topiary. Select colorful fruits so as to make your edible topiary bright and inviting. You also need to be careful to select fruits and items that are firm; like melons, grapes, pineapples and strawberries are good for your edible topiary. You can also add cheeses that are hard to your topiary. Cheddar and Swiss make good topiary items. Select chocolates carefully so they blend well with the other items in your topiary.
Now begin by cutting the fruits and cheese into equal size, bite-sized pieces. Proceed by sticking toothpicks into each chunk.
After cutting and sticking the toothpick business is over, you need to stick these pieces into the Styrofoam base. While doing this, hold both the Styrofoam base and your fruit / chocolate piece carefully and push them into the Styrofoam base until the piece sticks flat against the base.
Proceed this step until you cover the shape you made on the Styrofoam base. Accordingly, increase or decrease the number of fruit / cheese / chocolate chunks as may be required to fill in the shape.
You could refrigerate your edible topiary if it's small enough to fit inside your fridge. If not, you will have to make it only minutes before serving.
Image Credit: artisticcakesandcookies.com 
How To Use An Edible Topiary