How To Buy Plastic Lunch Boxes

14 Mar 2011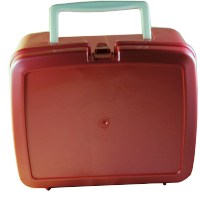 During the good old days metal lunch boxes ruled the roost; however, things have changed and now we have so many options in the market. If plastic lunchbox interests you and you're specifically looking to buy plastic lunch boxes, there are myriad options and choices available today. If buying a plastic lunchbox is leaving you with a headache, then here are a few helpful tips on how to buy plastic lunch box. So read on…
Many of the lunch boxes that are available in the market today are inspired by the classic Japanese Bento Box. Plastic lunch boxes range from the long-established square shape with a handle to novel designs with divided interior compartments for snacks, main dishes and ice pack storage.
Food Grade Plasticis Important. Lean towards buying lunch boxes that are made from food grade plastic. The plastic lunchbox needs to have adequate room to contain the amount of food required by the consumer. It should be hardy and stout to withstand a little wear and tear. If this is being bought for a child then it needs to be cool enough to win the approval of his peers.
Be wary of profoundly branded lunchboxes,  they might look grand but when the next trend comes along that once prized themed lunchbox will be in the trash faster than a candy wrapper. Instead opt for plain plastic ones that your kids can perhaps decorate themselves with glue, glitter, paints and stickers.
Make sure the lunchbox is PVC free. Current health standards in the US have created some anxiety about some soft lunchboxes that are made from plastics containing lead and PVC, both of which should be steered clear of in food containers. There are various manufacturers that market lead free and pvc free insulated lunchboxes.
Go for an easy to clean design. One good advantage of hard plastic lunchboxes over the soft insulated lunch bag is that it makes the cleaning job a lot easier. A few plastic lunchboxes are even dishwasher safe.
Size does matter.Make sure that the lunchbox has enough room to hold a drink bottle along with the main meal.
With all these great tips on how to buy a plastic lunchbox, you should be well prepared while going to the market to pick one up. Be it for your kid, or for yourself, remember to follow these guidelines to pick out a lunchbox that is appropriate for you.
Image credit – lunchboxesetc.co.uk 
How To Buy Plastic Lunch Boxes