What Are The Various Types Of Whipped Cream

11 Mar 2011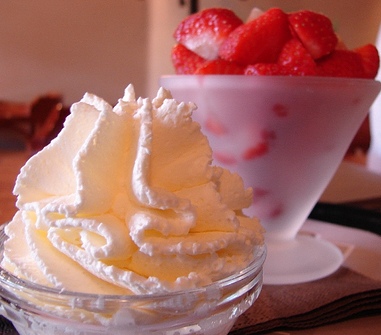 Here are some of the commonly available types of whipped cream that are available in the market. Recipes often ask for whipping cream but it is a tricky situation when you do not know which types of whipped cream are best suited for the recipe. If you want your dessert, frosting or cake to turn out just like it is shown in the recipe book then it is important that you know the various whipped cream types available.
Here are some of the common types of whipped cream.
Heavy Cream commonly known as Heavy Whipping Cream is the best type of whipped cream. It has 36 to 48% fat. Due to the high proportion of fat, it whips really well, to about four times the original volume and creates a fluffy light textured whipped cream. It is ideal for piping and decorating desserts and cakes.
Whipping Cream is best suited for toppings and fillings.  It has 30% butterfat. However this cream takes a longer time to whip to stiff peak stage. 
Crème Fraiche is the whipped cream type that works well as a topping for desserts and cupcakes. This cream is stable and has a slightly velvety rich texture.
Half & Half Cream is a mixture of half milk and half cream and has 10.5% to 18% of fat. Though typically used as a coffee cream, it can also be used as a substitute for heavy whipping cream in recipes, when you are on a low fat diet.
Double cream is a very rich cream that contains almost 48% of fat or more. This cream, thought a good whipping cream, is easy to over whip. You may land up with a curdled cream which can not be used for decorating. Use double cream in desserts like Crème Brule or Mousse instead of using it for frostings.
Clotted cream is also known as the Devonshire cream as it comes from milk given by the Devonshire cows. The Devonshire cream is ideal for fillings and toppings for cakes, pies and pastries as it has a 55% to 60% fat. This cream should not be whipped too much and can be used almost as it is.
Pasteurized creams are the best types of whipped cream, suited for storage as they stay for a very long time. Ultra pasteurized creams stay for more than a month. Pasteurized cream is processed by heating.  They not only keep well but are also good in flavor, volume and stability.
Whipped cream types can be used for different purposes. A common use of whipped cream is for making topping for cakes, pies and other desserts. To make whipped toppings, heavy cream is whipped, using a whisk, hand-mixer or stand mixer to create foam. Whipped cream types should be kept cold before whipping and should not be heated. Make sure that when whipped cream is used, the bowl in which the cream is whipped in is free of moisture. Place the bowl on a bed of ice or near a window when cold air can blow into the cream when it is whipped.
You can sweeten and flavor whipped cream by adding sugar and flavorings like cocoa, coffee, vanilla, spices, citrus zest, liqueur, chocolate, extracts and essence
.
Use the above types of whipped cream to make delicious treats.
Image courtesy - pastrypal.com
What Are The Various Types Of Whipped Cream