What Are The Various Ways To Eat Granola

14 Feb 2011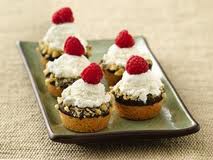 Granola is a tasty snacking option for health and fitness freaks. These people always keep looking for new ways to eat granola. Granola is an assortment of oats and nuts, roasted and mixed with delicious and healthy honey. A wide variety of choices are available in granola flavors and this diet supplement is a rich source of nutrition also. Eating granola helps in lowering the cholesterol in the body thus ensuring a healthy heart.
Usually granola is eaten with milk and makes a wholesome breakfast option. However, there are a number of interesting ways to eat granola. Here are some of them-
Salads- Eating granola by adding them to salads is one of the good options. Granola when combined with fruits, veggies or pasta salads, adds to the taste and gives a crunchier effect.
Ice cream topping- One of the interesting ways to eat granola is by using it as a topping for creamy yogurts and ice-creams. A combination of rolled oats, honey and crunchy nuts, granola makes the ice-cream and yogurts tastier and also healthier.
Filling ingredient- Eating granola by filling it with mashed potatoes in patties or by using it as a roll stuffing are also some of the ideal ways to eat granola. Granola contains rich nuts and can be added for making stuffed snacks for children. They are surely going to love the crunchiness and flavor of this new food.
Granola bars- Eating granola in the form of homemade bars is real fun. There are many easy recipes for making a granola bar at home. You can binge on this healthy option alone and can even share it with your friends and family. This is one of the best ways to eat granola anywhere and at any time.
Frozen fruit dessert- Eating granola can be healthy and delicious when eaten in a fruit parfait. Granola can be combined with whipped cream, sugar and some of your favorite fruits like peach, papaya, mango, strawberry and banana and relished when frozen. This fruit parfait is one of the delicious ways to eat granola after lunch or dinner.
Top it on fruits- There are numerous interesting ways to eat granola and one of them is eating granola is as a fruit toppings. The crunchiness and sweet flavor of granola will melt in your mouth and will make you crave for more fruits topped with the healthy and delicious granola.
Since you know ways to eat granola now, rush to your nearby store and buy this crunchy stuff to include it in your everyday diet.
Image credit- Pillsbury.com
What Are The Various Ways To Eat Granola