Bollywood Burner-World's hottest curry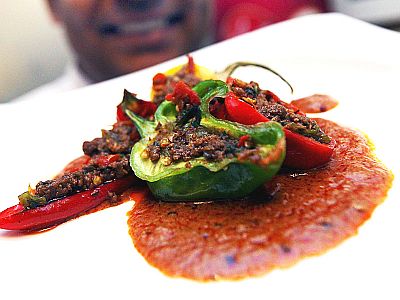 pic from news.ninemsn.com.au
Indian chef cooks world's hottest curry 
Vivek Singh, a London-based Indian chef, has created a dish that he says is the world's hottest curry. It is so hot it comes with a health warning. Singh, who is the chef of The Cinnamon Club, has named his creation the Bollywood Burner—a lamb curry that was commissioned by Sir Richard Branson's Virgin Media to mark the launch of its new 'Bollywood On Demand' service.
Before ordering the curry, diners are required to sign a disclaimer saying they are aware of the nature and risks involved with tasting the curry before eating it. Inspired by Andhra cuisine, Singh uses the Naga pepper and its seeds, which, on the Scoville scale that measures the piquancy of peppers, has a figure of 855,000—over 100 times hotter than the better-known jalapeno pepper. "We found a list of the 10 hottest chillies and decided to try and use some of them. I think it will be the hottest curry," said Singh. The Bollywood Burner is being submitted to Guinness officials for verification of its status as the world's hottest curry.
The announcement on Thursday brought an immediate challenge from Rukon Latif, maker of the infamous Curry Hell, who pledged to add even more spice to his creation. Latif, who runs the Rupali Restaurant in Newcastle, northeast England, said: "How dare they claim the Bollywood burner is hotter than Curry Hell?"
His father, Abdul Latif, who opened Rupali in 1977, would be turning in his grave if he learnt of the challenge to Curry Hell, said Rukon. "But we've been thinking of ways to make it stronger," he added.
Bollywood Burner-World's Hottest Curry