French laboratory apparatus for inhaling creates desserts
30 Jan 2011
Machine turns sweet, initially liquid, steam can be sucked through a straw.
A French research laboratory in gastronomy developed a device that allows you inhale desserts.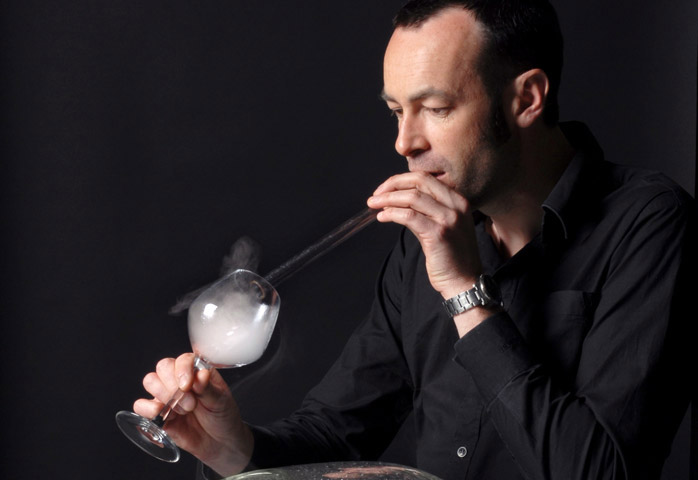 The machine makes the candy, initially liquids, vapors that can be aspirated with a glass tube, avoiding the intake of calories.
The device, called Le Whaf is a round glass container with a tap as a water filter.
The liquid is placed in Whaf and a cloud forms in the container. The technology integrates the use of ultrasound waves by crystals that polarize electrically or deform in an electric field.
Tiny particles are formed and are suspended in Whaf, creating fumes that can be inhaled.
The machine was created in late 2009, to inhale three types of cocktails, but the project has evolved to include desserts.
The Whaf was created by Harvard professor David Edwards, founder of Le Laboratoire in Paris, which carries out projects that combine science, art and gastronomy.
"Cloud of flavors"
Edwards, who has done scientific work on new ways of application of drugs and vaccines through aerosols, Whaf defines as "a cloud of flavors.
The machine was designed by designer Marc culinary Bretillot.
"There are hundreds of years, maybe thousands, we went to eat less during meals, but more often," says Harvard professor.
"The Whaf guides us toward a future in which eating is as much an act as ephemeral as an essential act of breathing."
"After the war, we spent a greater need for food as opposed to today, to know how to eat less. We want fewer calories but more pleasure and sensations. Thus, the Whaf seems to be a possible answer, "says designer cuisine.
Molecular cuisine
The recipes were created by chef Thierry Marx, a renowned expert in France the so-called molecular cuisine (where there is an application of scientific procedures in culinary art).
So far, the desserts that can be breathed into the tarts are Whaf tarte tatin and lemon, apple pie inverted with the dough up, typical French candy.
Other revenues are being developed, told the BBC press office in Brazil at Le Laboratoire, created about three years.
Its use has come to the French verb whafer to illustrate the inhalation of food that turned into steam.
It is expected that the Whaf is marketed in France and possibly in other countries later this year. "The idea is to reduce the size of the unit for domestic use," says the lab.
Le Laboratoire had also developed the Le Whif, a small inhaler that fits in your pocket, allowing breathing the aromas of chocolate without eating calories.
Daniela Fernandes 
Paris for the BBC Brazil
Image Credit- mssmfoodstudies.wordpress
French Laboratory Apparatus For Inhaling Creates Desserts