RECIPE- APRICOT SOUFFLE
24 Jun 2008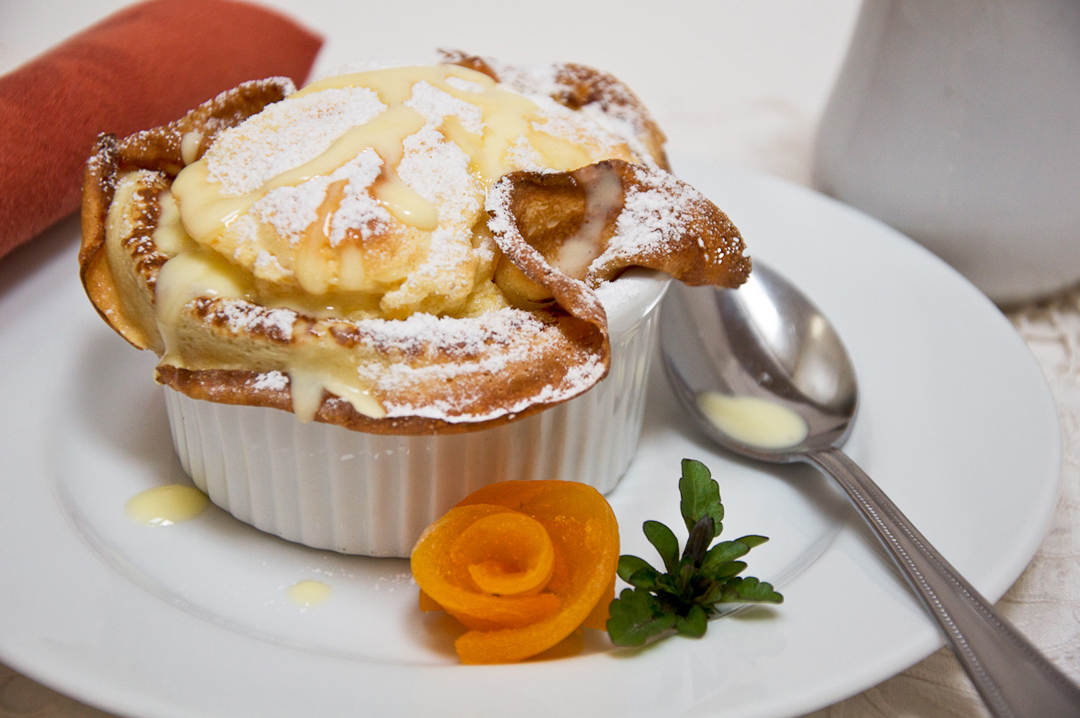 APRICOT SOUFFLE 
It's heavenly-light, sinfully creamy, and incredibly easy to prepare.  And it's more than just a souffle:  baked in one large  dish, then refrigerated, it's a truly amazing "cake".   Packed with healthy fruit and protein-rich egg white, our Apricot Souffle is a valuable source of fibre, beta carotene and niacin, very low in saturated fat, and ideal for low cholesterol dieters.  Even weight-reducers can enjoy it within  their regular kilojoule/calorie and fat allowance.   The recipe may be successfully doubled.   This is one of the many superb, healthy, nutritionally analysed recipes from Dr Clive Barnett's acclaimed new book, A Feast of Protective Foods (available NOW online from Amazon.com).
1.      1 ½  cups dried apricots
2.      ¼ cup brandy (or equivalent non-alcoholic flavouring such as pure orange juice)
3.     3 teaspoons polyunsaturated margarine, for greasing dishes (one large dish requires less)
4.     5 large egg whites, at room temperature
5.     ¼ teaspoon cream of tartar
6.      ¼ teaspoon salt
7.      1/3 cup caster (superfine) sugar, plus extra to sprinkle inside dishes
Make puree:  In small saucepan, (just) cover apricots with cold water.  Bring to the boil, remove from heat.  Cover pan and stand 5 minutes.   Drain, reserving 1/3 cup liquid.   Process apricots with reserved liquid until silken smooth.  Blend in brandy. Make up to a week in advance and refrigerate in covered container.

Lightly grease 5 souffle dishes, 10cm x  6cm deep  (4" x 2 ½");  or 1 dish 20cm x 10cm (8" x 4").   If serving cold, place a round of baking paper on base of dish(es).

At high speed, beat whites with cream of tartar and salt until soft peaks form.

Beat in sugar 2 tablespoons at a time, beating 5 seconds between additions, until stiff.

Whisk 2 heaped tablespoons of whites into the puree.   Fold this mixture back into beaten whites until just blended.   Mixture will be very firm.

Spoon into prepared dishes, set on oven trays for easy handling.

Bake in pre-heated 175 degrees C (350 degrees F) oven till risen and lightly browned: approx. 12 minutes for individual dishes, 25 minutes for 1 large dish.     Serve immediately.   Add a luscious touch by plunging low-fat ice cream into the middle of each souffle (or try our low fat honey or raspberry yoghurt cream - recipes elsewhere in our book).

If serving cold: cool five minutes after baking, then cover tightly with plastic wrap.  Push out air, refrigerate immediately.   This will greatly reduce shrinkage.   When chilled, loosen sides and turn out.  Keeps well for two days.
NUTRITION INFORMATION PER SERVE (FOR AN INDIVIDUAL DESSERT)
 Kilojoules  625
Calories   150
Fat (g)   2.5
Fibre (g)  5.7
Sodium (mg)  128
Salt (mg)  320
Cholesterol (mg)  Nil
HEALTH TIP:   VITAMIN C IS LOST IN DRIED FRUIT PROCESSING.  EAT PLENTY OF FRESH FRUIT FOR OPTIMAL VITAMIN C INTAKE.
Image Courtesy: thetravelingtable
RECIPE- APRICOT SOUFFLE