Is Celeriac Vegetable World's Ugly Duckling?

11 Jan 2011
During my weekly visit to the market, among the many baskets of roots and tubers, I saw what vegetable expert Jack Staub at NPR.org, called the "Vegetable World's Ugly Duckling". Celeriac is also known as celery root or knob celery or turnip rooted celery, indeed looked rather grubby and wrinkled and I almost ignored it, yet again, wanting to fill my grocery bag with potatoes instead. But I thought I should give this winter vegetable a chance and surprisingly it turned out to be delicious. I used it in a salad, soup and a stew!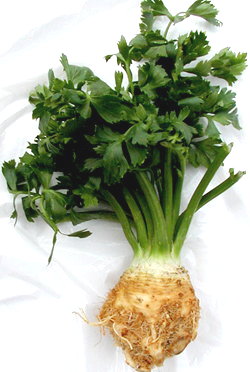 I'd advise you to over look the ugly exterior and discover the wonderful goodness of this excellent substitute to other starches. Celeriac is grown as a root vegetable but unlike potato and other roots, it has only 6% starch, almost no fat and lesser calories than potato. Maybe this winter vegetable is ignored due to its tough exterior and because it is more difficult to clean and prepare.
I discovered that it can be used in so many ways; just like the potato and it was fun experimenting with a new ingredient. It was really tough to peel and I wasted a whole lot of the root and actually sliced off the exterior. I made a wonderful and hearty soup, used it is a stew and added prepared a cold salad, all just from a pound of the vegetable. I didn't miss the potato even once. The celeriac gave a wonderful flavor of celery and had the texture of potato. In fact, when boiled and mashed and flavored like mash potato, you will hardly be able to tell the difference.
I read up recipes and am going to stock more of it to use in a casserole and try and make some roasted celeriac chips as well. I discovered that Celeriac is rather popular in European cuisine and found so many recipes using it.
A friend of mine, who is on a diet, suggested that I try much on celeriac sticks and I must tell you her advice was really yummy!
So don't judge this 'ugly duckling' vegetable by its exterior and next time when you visit the market, forget the potatoes and pick up a few pounds of celeriac.
Image Courtesy - www.celeriac.com
Is Celeriac Vegetable World's Ugly Duckling?