Easy Fudge Recipes To Make For Diabetics

6 Jan 2011
High blood sugar doesn't sound all that sugar-coating for the various restrictions imposed on a diabetic's diet- for instance, less of sweets, chocolates. But then there are easy fudge recipes to make for diabetics- Thanks to the culinary world; which has evolved and adapted to the changing lifestyle patterns, catering to the associated ailments at the same time. Diabetes now doesn't pronounce abstinence but regulation to control the sugar-levels.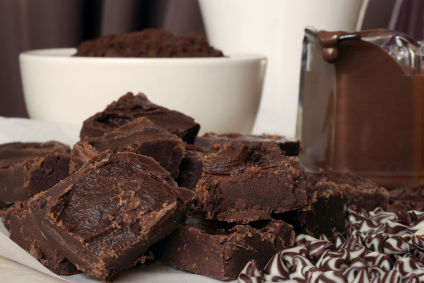 The food pyramid when it comes to diabetics (both type 1 and type 2) takes into account the right proportion of carbs, proteins and fat, with proteins taking a larger share. Moderation is the key to sustain blood sugar levels, and nutritious food plays a vital role in achieving the goal.

Fudge, as a favorite among many, can also be savored by blood sugar patients with some easy fudge recipes to make for diabetics. As a dry smooth version of fondant, fudge is a make of sugar, butter and milk. Cocoa can be added to enhance the flavor.

Here are some easy fudge recipes:

•    "All-nuts" fudge  :  One env. gelatin dissolved in 1/4th   cup of water and stirred.1 sq of unsweetened chocolate is melted along with 3/4th teaspoon of liquid sweetener and cinnamon. To this mixture, the gelatin-water mix is added and stirred until the gelatin is completely dissolved. The pan is removed from the heat and allowed to cool. After cooling ½ teaspoon of vanilla is added and once the mixture begins to thicken, the nuts are sprinkled. The fudge slab can then be cut into squares when it cools- an easy fudge recipe to allow even the diabetics a sweet-tooth indulgence.

•    Choco-walnut fudge : One-fourth   cup of margarine is melted over low heat in a greased saucepan, to which 20 oz of unsweetened chocolate is added and stirred till the chocolate melts. The pan is removed from heat and one teaspoon of vanilla extract along with 24 packets of sweetener  is added to it. The chocolate mixture is then mixed with 8 oz of low-fat cheese and stirred thoroughly till its smooth, after which the walnuts are added. The mixture is spread on a greased pan and refrigerated till it becomes firm.

•    Cocoa fudge : "Cocoa more than ever" , featuring in easy fudge recipes making fudge a diabetic's dream come true. 1 cup of 2 percent milk and 3/4th cup of cocoa powder are whisked together in a saucepan till blended and the mixture is heated for about five minutes till it thickens. A mix of 5 teaspoon of unflavored gelatin and 1 cup of water is kept ready by heating it till the gelatin dissolves. The gelatin-mix is then poured into the cocoa mixture (on stove) to which ½ cup of sweetener and 1 teaspoon of brandy extract is added with constant stirring. The mixture is then poured over a greased pan and refrigerated till it becomes firm.
Some of these fudge recipes are not only healthy but tasty as well that even diabetics can take a break to take a bite from easy fudge recipe ideas.
Photo courtesy :  life123.com
Easy Fudge Recipes To Make For Diabetics