Spaghetti Party Ideas For National Spaghetti Day
5 Jan 2011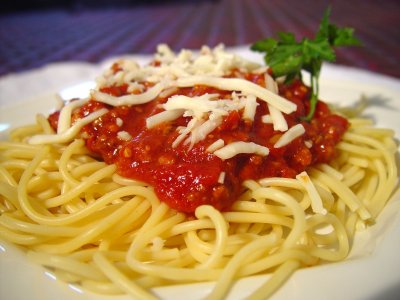 "Please suggest me some Spaghetti party ideas for National Spaghetti Day?" begged Eileen. Eileen like many others was all set to celebrate the National Spaghetti Day on January 4th. Spaghetti is a globally accepted dish, is savored and favored throughout the world with same fervor and interest. It is estimated that in the year 2000 alone about 1.3 million pounds of spaghetti was sold in America. And if the spaghetti packet equaling to 1.3 million pounds were lined up, then they were enough to circle the Earth nine times.
I recounted some of our yesteryear's celebration patterns, when I and my husband had thrown spaghetti party for our close friends on the account of  National Spaghetti Day. I can simply say that the experience was amazing. I have dished out the following spaghetti party ideas to Eileen. These ideas were perfected with my own experiences.
Decorations: It is always good to kick start the spaghetti party celebration by decorating your house. I transformed our dining hall into mini Italian restaurant. I gathered some quick tips from internet and friends to perfect the art. I started with laying red-and-white checkered tablecloth on the table. I also kept one red-and-white checkered tablecloth for wiping out the remnants of the meal. Then, I decorated the tables with some impressive candles and bottle of Chianti. I also placed the shakers of pepper flakes and Parmesan cheese on one end of the table and placed the centerpiece with grapes in decorative bowls. In the background I decided to play operas from Frank Sinatra. My friends still say that the real charm of the party was that Italian restaurant theme. I feel elated on hearing that. You can also try out the same if you wish to make spaghetti party a memorable affair.
Food:   I can say that there is no limit to creativity because you can serve as many spaghetti dishes as you can.  I served spaghetti and meatballs, with meaty spaghetti sauce.  I have also served spaghetti in olive oil sauce during another spaghetti party. I have rounded off the party with spaghetti fruit salad.
Games:  Next I surprised my guests with spaghetti themed game party post dinner. I began with spaghetti themed quiz competition. The winner was awarded an Italian recipe book and jars of pasta sauce. Other than that I also organized some Italian-themed games such as the bin game. The bin game was a great hit. I allowed the guests to put the wine corks in the bins. The different colored wine corks were handed to the guests and they were asked to fill the bins with those corks. Certain points were assigned to these multi-hued corks. The person with largest number of points was awarded a gift coupon worth $5. I handed out lots of small Italian-themed prizes during the game show.


Hope that my experiences work for you too.  As I said before there is no limit to creativity, so you can even try out some ideas of your own.
Image Courtesy: free-extras.com
Spaghetti Party Ideas For National Spaghetti Day