6 Recipes for Healthy Protein Shakes

4 Jan 2011
Are you on a High Protein Diet? Feel too lazy to make breakfast and always prefer to skip the most important meal of the day? Are you a vegetarian and always struggle to consume enough protein? Here are some super healthy and delicious Protein Shake recipes that take care of your body's protein requirement and will keep you going till lunch, without any hunger pains. Five minutes is all you need to prepare these shakes and take care of your daily nutritional requirement.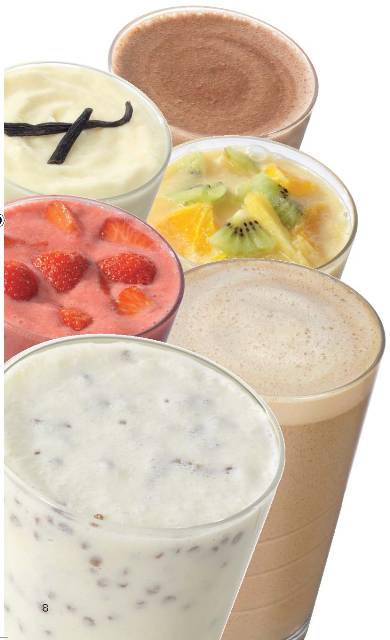 Proteins are the building blocks of your body and assists in growth, muscle regeneration and tissue repair.
Protein shakes or smoothies are healthy drinks that supply good nutrients without adding to your carbohydrate and fat intake for the take. Use your favorite fruit or vegetable along with your protein supplements and get all the protein, vitamins and phytonutrients that your body requires.
Many energy drinks and protein supplement powder shakes do not taste good and you gulp them down without really enjoying them. Add a few good fruits or veggies and a few flavors and you can delicious protein supplement shakes. You could use Whey Proteins or Tofu too. 
6 Healthy & Tasty Protein Shake Recipes:
Simple, Quick Protein Shake
1 cup low-fat, fat-free milk or soy milk

1 heaped scoop of high energy chocolate protein supplement

1 handful of fruit (whatever kind you like is fine)

Granola or wheat germ (you could you a low calorie granola)
Blend all the ingredients till smooth. You could use any fruit of your choice. Use a fruit you like so that you can enjoy the drink.
Berry-Banana Smoothie
6 fresh or frozen berries or your choice (strawberry, blueberries)

1 fresh banana

1 tablespoon skim milk/ powder (you can replace with soy milk powder)

1 scoop of your favorite protein/whey powder

1 1/4 cup water or fat free yoghurt

1 teaspoon of flaxseed

Ice
Process all ingredients in a blender, blend until mixed thoroughly and pour into a tall glass. Top with some more berries.
Tropical blast
1/4 cup sugar-free pineapple juice or 1 ¼ cup fresh pineapple

1/4 cup unsweetened light coconut milk

3/4 cup passion fruit sorbet

1/4 cup peeled sliced mango or banana

1 scoop of your favorite protein supplement or 1 cup soy milk

8 to 10 icecubes
Process all ingredients and blend until mixed thoroughly.
Gingery Carrot Smoothie
1/2 cup carrots grated finely

1/2 cup carrot juice

1/4 teaspoon finely grated or chopped ginger

1 cup frozen vanilla fat free yogurt

1/2 cup soft tofu or soy milk

1 tablespoon lemon juice

Juice of 2 oranges (you could use sugar free orange juice too)

1 teaspoon honey

pinch of salt
Pulse the carrots, ginger tofu for a minute. Add the other ingredients and blend till smooth.
Morning Fresher
1/2 cup apple juice

1/2 cup cucumber juice

3/4 cup carrot juice

1/4 teaspoon honey

1 teaspoon cardamom

1 teaspoon cinnamon

1 to 2 teaspoons of freshly squeezed lemon juice (to taste)

1 scoop of your favorite egg white protein powder
Pour juices (fresh or packaged) into the blender along with the other ingredients. Blend until mixed thoroughly and serve.
Melo-Peach Protein Health shake
1 cup peach fat-free frozen yogurt ( you could use plain yogurt and a fresh peach)

1 cup skim milk or soy milk

1/2 cup each of cantaloupe and honeydew melon.

1/2 cup watermelon (optional)

2 tablespoon protein powder

4 ice cubes
Add yogurt, milk and melons to blender and pulse. Add watermelon and ice. Blend once again. Finally mix in high protein.
While making your Protein shakes, you must remember to keep the calorie content low. The main aim is provide your body with the boost it needs in the morning or when you feel like snacking. Kick start your day in a healthy way.
Try these Protein health shakes and let me know which one is your favorite one!
Image Courtesy - www.irelandherbal.com
6 Recipes For Healthy Protein Shakes