What Can You Make With Boiled Potatoes
29 Dec 2010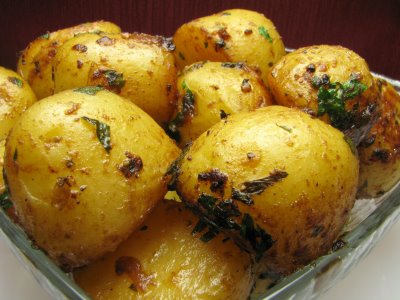 No matter what your doctor say against potatoes, it is a fact that everyone loves potatoes in some form or the other. Here are a few tips on What Can You Make With Boiled Potatoes this winter.
Introduction: Always boil potatoes with salt so that the water has pleasant salty flavor in it. This will help you in making delicious boiled potatoes recipes.
Patate Lesse: If you are unwilling to make dinner, Patate Lesse, an Italian dish made of boiled potatoes, can be an answer. Boiled potatoes have been friends of the poor for centuries. In order to make them a little exciting and rich, add a little olive oil, butter and minced parsley. Some people also use sour cream and peas.
Parsley butter: Another mouth-watering recipe that you can make with boiled potatoes is parsley butter. Boiled potatoes nicely cut in two halves and tossed in butter and fresh chopped parsley are simply awesome.
Dill New Potatoes: How will you resist tossed boiled new potatoes in butter with some fresh chopped dill? Season with salt and pepper to simply enhance the taste.
Sliced potatoes: These one-centimeter thick circles of boiled potatoes when garnished with finely chopped coriander leaves give a nice aroma and delightful taste.
New potatoes with pesto: A little addition of pestos enhances the taste of simply boiled potatoes. Serve hot for best results.
Potato sandwich: Nicely mashed boiled potatoes are stuffed into sandwich with spices can be a perfect morning snack.
Bacon potatoes: Boiled potatoes taste delicious when mixed with fried bacon. Serve this mouthwatering snack hot anytime. It even attracts fussy eaters.
Olive oil potatoes: A little extra virgin olive oil dresses the boiled potatoes, while garlic and fresh herbs enhance its taste. Pair it with roast pork to give complete pleasure to your guests. Those who love smell and taste of mustard oil can replace it with olive oil. You can also mash the potatoes and add coriander leaves for great tastes.
Cream potatoes: Tossed in little cream, these thick slices of boiled potatoes are very tempting. It can be made more tempting by adding little minced garlic to simmering cream.
Sour cream and chive potatoes: Little sour cream and minced chives can also provide additional taste to simply tossed boiled potatoes.
Roasted potatoes: You can also roast potatoes, which are boiled with olive oil and a variety of fresh herbs. Hot and brown roasted potatoes taste great with chilled beer and is a great boiled potatoes dish.
Image Credit: fortheloveofcooking-recipes
What Can You Make With Boiled Potatoes