How To Use Leftover Candy Canes
27 Dec 2010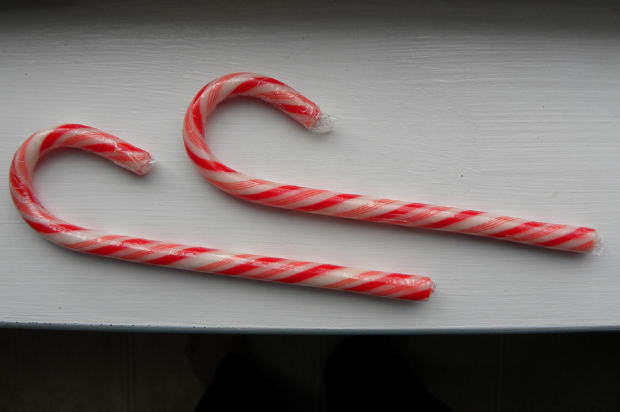 Here is a 'how to use leftover candy canes' tutorial that might ease the pain of storing them all away in your pantry. Christmas is over and you find yourself stuck with a million candy canes the kids decorated the tree with, and you are wondering what to do with them. Their utility was served this year and you hesitate to keep them till next Christmas. 
Using leftover candy canes is an innovative art and there are plenty of suggestions from cooks and moms that are entertaining and arty too. Maybe involving the kids in this adventure will keep them busy and is a fun family time too.
Chocolate Dipped Candy Canes:
This is a fun way to have your chocolate and eat it too. Melt some chocolate in the microwave. Get the kids to dip the candy canes in them on both sides on the ends. If they prefer maybe the whole candy cane can be immersed into it too. Wait till the candy cane with chocolate dries and sticks to it well. Now make them a nice hot chocolate drink and hang the candy cane on the side of the cup and watch them have fun.
Candy Cane Candles:
Here is more art work for the kids to keep them busy. Take those left over fat candles at home. Gently warm the side of the candle without melting them and stick the canes on to them with their bent ends uniformly facing the outside. Let them dry and you have beautiful candy cane candles to decorate your kitchen window. You can break the bent ends from the canes and keep them straight, glued to the sides of the candles too.
Candy Cane Picture Frames:
If you have wooden picture frames that are laying around unused, another art project would be to cut off the bent ends of the candy canes and glue them around the frames, to give a colorful, hazy picture frame with the photos of your kids in them.
Candy Hearts:
Take those candy canes; place 2 of them in a heart shape close to each other on a baking sheet and bake only long enough for them to join at the ends. You have beautiful valentine candy cane hearts ready to go for Valentine's Day.
Candy Cane Cocoa:
This is another delightful preparation and can involve the children as part of a mini-cookery class. Heat some milk in a pan. Whisk in a piece of not-so-sweet chocolate. Add pieces of candy cane until melted. Pour into a cup; add whipped cream, marshmallows and a candy cane as a stirrer. Kids will love this for sure.
Candy Cane Chocolate Squares:
Melt some chocolate; add pieces of broken candy canes to it. Pour over a baking sheet and bake it. After cooling break them up into square pieces and give the kids as snacks.
Candy Cane Sprinkles:
Mash up the candy canes of different colors with a kitchen mallet. Store it and use it as sprinkles over cup cakes, cakes or ice-cream. You have your own home-made sprinkles ready to go.
Image credit: MorgueFile.com and chocolate candy canes
How To Use Leftover Candy Canes