National Food Holidays: National Pastry Day
10 Dec 2010
With a wide variety available for morning, noon, and night, pastries have become an indispensible part of our daily life. No wonder somebody has thought it fit to give it its due honor by celebrating a National Pastry Day on December 9 every year. Here is a quick look into the history of this special day and how you can celebrate it with some of our choicest pastry recipes. Here you go!
Origin of National Pastry Day
While no one really knows how National Pastry Day began to be celebrated, it is generally believed to be the brainchild of some smart greeting card industry barons. It is celebrated in December as the month is considered a great time for rejoicing and eating hearty foods.
Today's Varied Versions
Unlike just a couple of ones that your grandma made for Christmas, today's pastries are varied and many. As the world has become smaller owing to technology, pastry-making techniques have been exchanged between people of different nationalities. Traditional pastries have traveled far away from their respective homelands and are made with equal enthusiasm by somebody in the other corner of the world. If you'd like to make a new pastry at home, here are some of our best recipes that you can try on National Pastry Day.
1. Betty's Fresh Strawberry Scones
This is a delicious scone recipe that is made using a cast iron skillet. Made with fresh strawberries, heavy cream, and butter, this is certainly a rich snack that you'd want to enjoy anytime.
You'd love the buttery deliciousness of this cloverleaf roll which makes for a perfect mealtime addition.
3. Tomato Jewel
If you are looking to make a cheesy savory appetizer for a party, then this tomato jewel will be a right choice. The slit tomatoes are filled with spiced cheese, placed on warm pastries, and baked to perfection.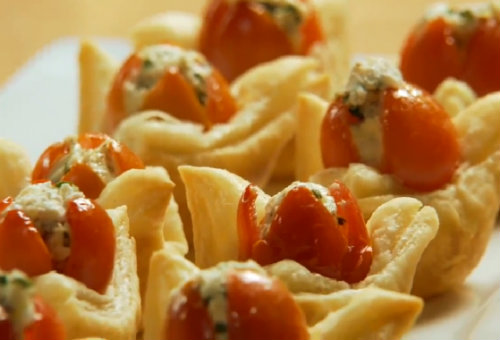 Cannoli are dessert pastries made in the Sicilian cuisine. These are small pastry tubes filled with sweetened ricotta cheese. This particular recipe uses chocolate chips and candies in addition. Try them and drown yourself in all the cheesy goodness.
5. Mini Quiche
This quiche recipe is not only great to taste, but is also healthy. Made with spinach, garlic butter, onions, eggs, and cheese, we are sure this will be a family favorite!
By now, you would have made up your mind on which pastry to make for National Pastry Day. Do make it for your family and friends, and we are sure they'd be in for a delicious surprise!
Image Credit - zastavki
National Food Holidays: National Pastry Day