Ideas For Unique Gingerbread Houses For Gingerbread House Day Competition
8 Dec 2010
These ideas for unique gingerbread houses for gingerbread house day competition; can be handy for you, in case you are participating. When you are building up the gingerbread house for the gingerbread house day competition, then you have to be careful about adding more details and intricacies to your craft. First of all, you should take a preparation from at least a month ago to gather all the items. Last moment assembling of gingerbread house can never bring you a prize from the competition. So, you should take quite some time to add details and many contexts to the house, on top of decorating the house. Here you will find some ideas for unique gingerbread houses, which might become helpful for you.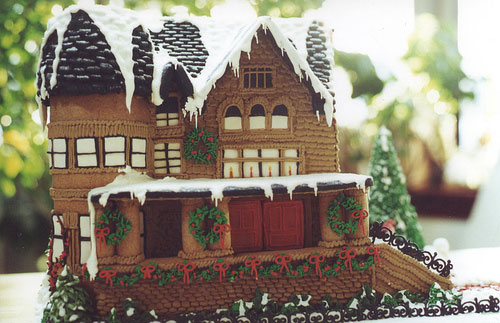 Gingerbread Farmhouse – Make a farmhouse with the gingerbread and add all details of the farm including the farm animals and their places. Add small pond, trees, bushes, gates, ways etc to give details. Think of anything you are missing from the farmhouse – you may ask your kids to help you in this part.
Gingerbread Village – Prepare a small village with few gingerbread houses. Add paths and roads with lights, animals, men and women, trees, bushes etc. Make a central place for assembling a Christmas tree. You may have snow covered land with icing. Try to add as much details, as you can to materialize the concept.
Gingerbread Township – Have you ever thought of this idea! This will take quite some time to prepare, but will surely be a unique piece. First prepare the skyscrapers individually then assemble them on a row to give a picture of a town. Add wide roads with little vehicles. These can be prepared in advance by baking and icing in proper colors.
Gingerbread Fort – Making a gingerbread fort will be a unique as well as critical project. Think of any colonial fort or collect a picture of a fort and according to the picture start your crafting. Here you have to give the stone like look to the walls. If you can add some intricate designs on the fort, that will be just great. Finally, add the icing to make a snowy effect.
Image Courtesy: gingerbread-house-heaven.com
Ideas For Unique Gingerbread Houses For Gingerbread House Day Competition